Berejiklian makes a conservative call on school reopening
http://www.afr.com/policy/health-and-education/berejiklian-makes-a-conservative-call-on-school-reopening-20210827-p58met
One senior school system official referred to the plan as "bulls—" for keeping schools almost-shut in areas of the state with few or no reported COVID-19 cases.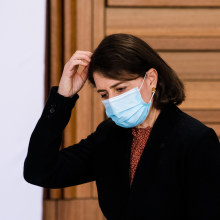 "It's not a return to school," they said. "It's a stay-at-home regime."
Priorities
Balancing the competing objectives of public health and school education may be Premier Gladys Berejiklian's most unpleasant decision.
Vaccinations have become so popular that NSW may reach its 70 per cent open-up target in the first half of October, rather than the end of that month, Berejiklian said this week.
By leaving most of the state's 1.2 million school students at home until November 8, Berejiklian is prioritising the fight against the pandemic over the interests of children, who almost never die from COVID-19.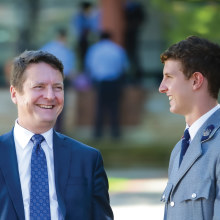 Conservative call
Berejiklian has, though, given society certainty and herself flexibility.
"It's conservative," says Tony George, the principal of The King's School in North Parramatta, a suburb under double-lockdown. "I suspect we will be able to move a little more quickly."
If lockdowns are lifted in specific areas – country NSW's is nominally due to end September 10 – then full-classroom teaching will resume too. The reverse will happen if cases spike.
There are two main political risks from the plan.
If schools are opened in wealthy areas of Sydney with few infections and remain shut in poorer western and south-western Sydney, the Labor opposition will complain about unfairness.
At the same time, some teachers may refuse to be vaccinated on medical or ideological grounds. Vaccinations become mandatory on November 8, the day the last of the year groups are scheduled to return.
Berejiklian didn't answer directly when asked on Friday if vaccine objectors would be fired. Education Minister Sarah Mitchell said they would be compulsory.
Even though teacher vaccinations are approximately five percentage points higher than the NSW population, making injection of a drug a condition of employment is a big moral and philosophical step.
Which is why religious private schools are pleased the government made the decision for them. They can now blame Berejiklian and Mitchell if they are forced to fire unvaccinated staff.
As for the children, high school students will have to wear masks. Bands and choirs will be silent. Assembly halls will remain empty.
On Friday, Berejiklian thanked children for sending her letters describing their lives during the lockdown. She didn't mention how many parents had written begging for her to reopen their classrooms.