Kivlenieks dies in fireworks malfunction
http://www.bbc.co.uk/sport/ice-hockey/57725848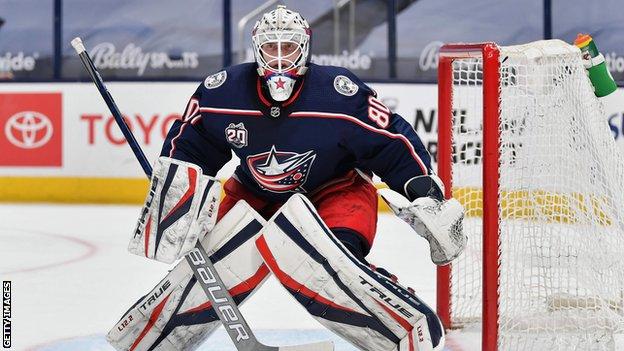 Columbus Blue Jackets goaltender Matiss Kivlenieks has died after a "fireworks malfunction" at a Fourth of July party.
US media reported that an initial autopsy carried out on the 24-year-old found he died as a result of chest trauma caused by a fireworks blast.
He had been in a hot tub at a house party in Novi, Michigan, at the time.
Initially Michigan police said Kivenieks, a Latvia international, had died from a head injury suffered while getting out of a hot tub.
"There appears to be some fireworks that accidentally went off and launched in the direction of Mr Kivlenieks and others who were seated in the hot tub," lieutenant Jason Meier said.
The Latvian signed with the Blue Jackets in May 2017 and spent most of his time with the Cleveland Monsters of the American Hockey League.
He played in two games for the Blue Jackets in 2020-21 and made six appearances – including four starts – the previous season.
He also represented his country at this year's World Championships.
"We are shocked and saddened by the loss of Matiss Kivlenieks, and we extend our deepest sympathies to his mother, Astrida, his family and friends during this devastating time," said Blue Jackets president of hockey operations John Davidson.
"Kivi was an outstanding young man who greeted every day and everyone with a smile and the impact he had during his four years with our organisation will not be forgotten."