Osaka to avoid questions at French Open
http://www.bbc.co.uk/sport/tennis/57263774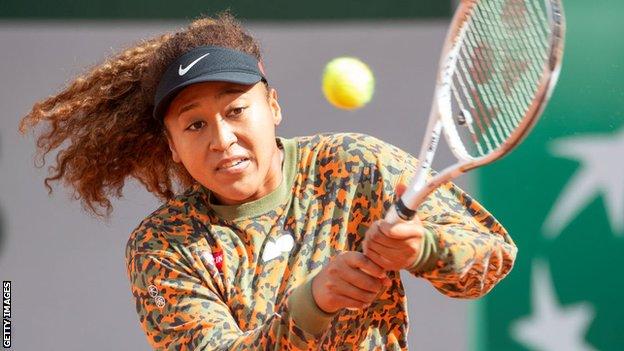 Naomi Osaka will not take questions from the media at the French Open, citing the impact of news conferences on the mental health of players.
Japan's four-time Grand Slam champion, 23, said expecting players to answer questions after a defeat amounted to "kicking a person while they're down".
The world number two has won two Australian Open and two US Open titles but is yet to win at Roland Garros.
The French Open gets under way in Paris on Sunday, 30 May.
"I've often felt that people have no regard for athletes' mental health and this rings true whenever I see a press conference or partake in one," Osaka said.
"We're often sat there and asked questions that we've been asked multiple times before or asked questions that bring doubt into our minds and I'm just not going to subject myself to people that doubt me."
She added the decision was "nothing personal" against the tournament and that she hopes the "considerable" fine she expects to receive will go to a mental health charity.
Grand Slam rules state players can be fined up to $20,000 (£14,160) for failing to meet their media obligations.
'This is so correct' – Asher-Smith supports Osaka
It remains to be seen whether more players follow Osaka's approach, but her stance has been applauded by some other athletes.
British sprinter Dina Asher-Smith said it was "so correct" and that while there are "a lot of excellent journalists that are doing an amazing job" there are some who "try to find, and at times, create cracks in your psychology".
"Some try to ignite a storm by using your name on a random topic and it's not OK," she wrote in a lengthy post on Twitter.
"Who stands up for the athletes' mental health in these situations?
"It's anxiety inducing when you sit there and have to constantly quietly pray that you've left no room for ambiguity with the answer you've just given, just in case someone decides to take it out of context and portray it differently for 'clickbait' – which could obviously cause huge damage to your reputation and career."
Australian Grand Slam doubles champion Rennae Stubbs, who now works as a commentator, wrote: "For someone who now works in media and knows how important quotes and sound bites are, I was also a player, with feelings!
"This move from Naomi is really an amazing moment for the media to LISTEN to these players and understand how tough it is for many of them and to do better and get better!"
Osaka can afford the fine but 'most athletes can't'
This week sports business website Sportico reported that Osaka had earned $55.2m (£39.1m) over the past 12 months, which it said was a record for a female athlete.
The $20,000 fine she may face for missing a news conference is greater than the figure a player who reaches the second round of qualifying for the French Open would take home.
"Naomi Osaka has a point. But it is two sides to this coin," American former Wimbledon finalist Zina Garrison tweeted.
"She will be able to pay for the fine, most athletes can't. Love you are bringing awareness to mental health in sports. Come together with all sides and work on a solution now."
What are the rules?
The Grand Slam rulebook states: "Unless injured and physically unable to appear, a player or team must attend the post-match media conference(s) organised immediately or within 30 minutes after the conclusion of each match, including walkovers, whether the player or team was the winner or loser."
While the fine is 'up to' $20,000, it is usually related to the ranking of a player with those in the top 10 facing higher penalties than those outside the top 100.
American Christian Harrison was fined $3,000 by the ATP after refusing to take part in an on-court interview at the Delray Beach Open in January amid a dispute over mask wearing.