Man Utd & Liverpool owners apologise
http://www.bbc.co.uk/sport/football/56828413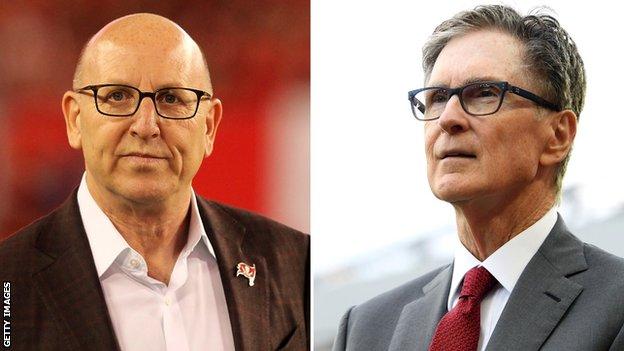 Manchester United co-chairman Joel Glazer says the club "apologise unreservedly for the unrest" caused by the proposed European Super League.
The rare public comment from the American came after Liverpool owner John W Henry apologised to supporters.
United, Liverpool and four other Premier League sides withdrew from the ESL on Tuesday after a backlash.
"We failed to show enough respect for its deep-rooted traditions," Glazer said in an open letter to fans.
The 50-year-old admitted efforts "in seeking to create a more stable foundation for the game" did not honour the conventions of promotion and relegation within the wider football pyramid.
"For that we are sorry," he said. "This is the world's greatest football club and we apologise unreservedly for the unrest caused during these past few days.
"Manchester United has a rich heritage and we recognise our responsibility to live up to its great traditions and values."
BBC Sport's Simon Stone said: "It is rare indeed for Glazer to speak about United. He has done one interview with MUTV at the time of the takeover in 2005 – and that is it."
Glazer said they will work to "rebuild relationships" across football "with a view to working together on solutions to the long-term challenges facing the football pyramid".
"We also realise that we need to better communicate with you, our fans, because you will always be at the heart of the club," he continued.
The Duke of Cambridge, who is president of the Football Association, said in a tweet that he is pleased that football supporters' opposition to the ESL had been "heard and listened to".
Earlier on Wednesday, Henry took sole responsibility for the "unnecessary negativity", saying: "In this endeavour I've let you down.
"The project put forward was never going to stand without the support of the fans.
"Over these 48 hours you were very clear that it would not stand. We heard you. I heard you."
Ferran Soriano, chief executive of Premier League leaders Manchester City – another of the English clubs involved in the proposal – apologised in an email to the club's supporters.
"We failed to remind ourselves of the unbreakable link between the passion of our fans and the right to have the opportunity to earn success. It is a truth that is fundamental to the DNA of Manchester City and the board deeply regrets taking a decision that lost sight of the historic values of the club," he said.
"We made a mistake and we sincerely apologise to our fans for the disappointment, frustration and anguish caused by the last 72 hours."
In other developments on Wednesday:
Juventus chairman Andrea Agnelli admitted the project could not proceed after the Premier League clubs withdrew.

AC Milan, Inter Milan and Atletico Madrid followed suit, taking the total withdrawals to nine.

Rival managers, chairmen and officials called for tighter regulations and possible punishments for the six English clubs.
Before Liverpool's statement confirming the club's withdrawal, captain Jordan Henderson had said on social media his side's "collective position" was that they did not want the breakaway to go ahead.
"We don't like it and we don't want it to happen," read a message that was also posted by many fellow Liverpool players.
Reds manager Jurgen Klopp and midfielder James Milner also voiced their opposition to the plans after their Premier League game at Leeds on Monday.
In a video released by Liverpool,
Henry also apologised to Klopp, the players and chief executive Billy Hogan, promising to do all he could to win back the supporters' trust.
"They have absolutely no responsibility for this disruption," added Henry. "They were the most disrupted, and unfairly so. This is what hurts most. They love your club and work to make you proud every single day."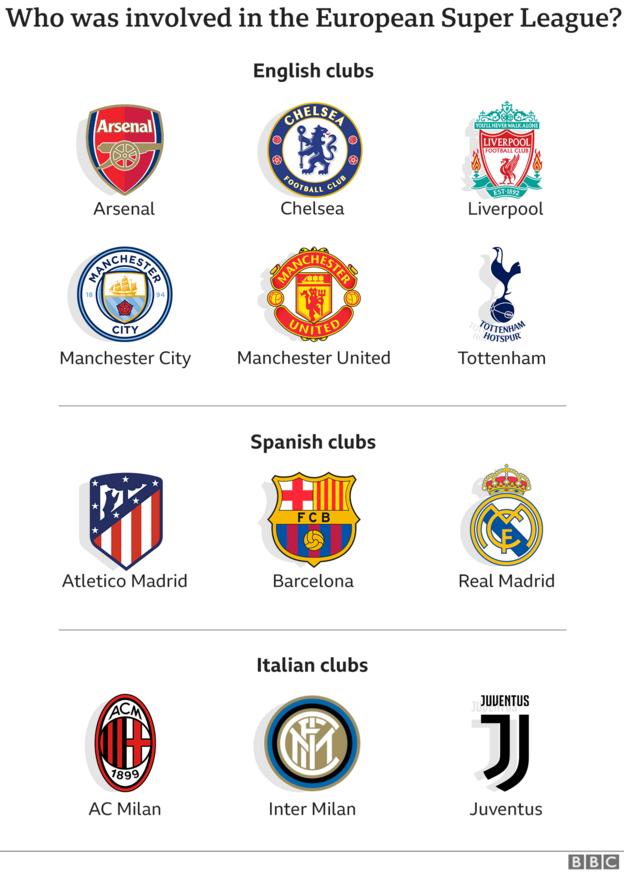 'It was nearly the worst idea I ever heard'
Manchester United Supporters' Trust chief executive Duncan Drasdo told BBC Sport: "Driven from the Manchester United owners, it has tarnished the club. It has been damaged and there's been huge damage to the relationship with owners at a lot of these clubs and in some cases irreparable and they will need to do something to try to turn that around. "
In a statement, Liverpool supporters group Spirit of Shankly said Henry's apology was a "PR exercise" that was "too little, too late". It added: "We need a fundamental change in football governance. One that is fair for the whole football pyramid, not just the rapacious elite."
Former Liverpool winger John Barnes went as far as suggesting a salary cap needed to be introduced to ensure "a level playing field" for every team in the Premier League.
The Chelsea Supporters Trust (CST) say they have "little or no confidence" in the club's board after its involvement in the ESL and said the positions of chairman Bruce Buck and chief executive Guy Laurence were "untenable".
In their statement CST also say Buck defended the Super League to fans during a forum on Monday evening. The club withdrew its plans to join the Super League 24 hours later after witnessing the negative reaction from supporters and fears about the reputational damage it could do to the club.
But the CST statement said: "We are disappointed that an apology has not been included in the statement. The legacy of our club was put at risk for what appears to have been solely for financial gain."
Southampton boss Ralph Hasenhuttl said: "I think it was nearly the worst idea I ever heard. It underestimated the power of the fans and how much they love football and it is for everybody. We are all happy the first battle is won but I think it is not over yet. "
Crystal Palace chairman Steve Parish told BBC Breakfast the ESL plans were an "attempted coup" and added: "What Uefa need to do is start looking after the game and stop pandering to these people and trying desperately to keep them inside the tent because they're going to be inside the tent now whatever happens."
Brighton chief executive Paul Barber said the rules needed to be "tightened significantly" to make sure this never happened again.
When asked whether the six English clubs should be punished with points deductions, he told BBC Radio 4's Today programme that was "certainly something the Premier League and Football Association need to look at".
West Brom manager Sam Allardyce said the idea of a Super League had merely been put on hold and without "better protection" we would see similar proposals "again and again".