Quarterback Brees announces NFL retirement
http://www.bbc.co.uk/sport/american-football/56396508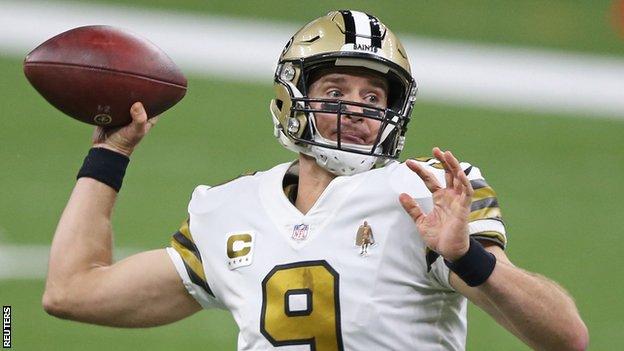 New Orleans Saints quarterback Drew Brees has announced his retirement.
The 42-year-old ends his illustrious 20-year career as the most prolific passer in NFL history.
He led the Saints to their only Super Bowl after the 2009 season, when they beat Indianapolis Colts to win the title.
"I am only retiring from playing football, I am not retiring from New Orleans. This is not goodbye, rather a new beginning," he said.
Brees, who joined the Saints from San Diego Chargers in 2006, has thrown for 80,358 yards passing, which is the most in NFL history, while he also made 7,142 completions.
His 571 touchdown passes is only second to fellow veteran quarterback Tom Brady's 581.
In a message on social media, he added: "Until the very end, I exhausted myself to give everything I had to the Saints organisation, my team, and the great city of New Orleans.
"We shared some amazing moments together, many of which are emblazoned in our hearts and minds and will forever be a part of us.
"You have moulded me, strengthened me, inspired me, and given me a lifetime of memories. My goal for the last 15 years was striving to give to you everything you had given to me and more."
'He was a magnificent leader' – Saints lead Brees tributes
Brees hit 32 passes for 288 yards when Saints won the Super Bowl and he was voted the game's most valuable player.
His retirement comes almost two months after his side were eliminated in the play-offs by Brady and eventual 2021 Super Bowl champions Tampa Bay Buccaneers.
Saints owner Gayle Benson said Brees was "much more valuable than all the records, awards and accolades that he amassed" and was "one of the greatest in our league's history".
She added: "When Drew first joined the Saints in 2006, my late husband Tom was determined to deliver a team to New Orleans that would win a championship on the field and become a leader in the community following the setbacks that Hurricane Katrina dealt our region.
"Over and above his outstanding performance, Drew came to represent the resolve, passion and drive that resonates not only with Saints fans and football fans, but our entire community."
Saints head coach Sean Payton said: "Throughout his career, his consistency and dedication to excellence were unparalleled.
"He was a magnificent leader both on and off the field. His attention to detail and competitive spirit were infectious.
"For all of us that have had the chance to coach him, it has been our privilege, we are better for it."
Coach Payton the perfect match for prolific Brees
Brees finishes his career with an overall 172-114 record as a starter, with a 9-9 mark in the play-offs, while going 142-86 and 9-8 in 15 years with the Saints, where he grabbed a catalogue of records that look certain to see him enter the NFL Hall of Fame.
A severe shoulder injury picked up in his final game with the Chargers almost ended his career, but he made a remarkable recovery to steer the Saints to their first ever NFC Championship game in his first season in New Orleans.
A tremendous partnership with coach Payton then formed that saw the Saints deliver some of the most entertaining football in the NFL, with Brees regularly topping the passing yards charts as they won their only Super Bowl and made the play-offs nine times.
Brees led the Saints to a fourth straight NFC South title last season, but age and injuries have been catching up with him. He missed just one game in 18 seasons with injury until sitting out five games with damaged thumb ligaments in 2019.
Last season he missed just four games despite suffering a punctured lung and fractured ribs and, after previously saying he wanted to play until the age of 45, that looks to have helped him make the decision to retire.
The Saints will now look to either Taysom Hill or Jameis Winston from their current roster to fill the void at quarterback, or opt to take a college prospect in April's draft.
One of the best quarterbacks of all time – the stats
Brees is the NFL's all-time leader in terms of passing yards with 80,358, and also in completions with 7,142.

His 571 touchdown passes is only second to Tom Brady's record mark of 581.

Brees is the only player in NFL history to throw for 5,000 passing yards in multiple seasons – and in fact he's managed to reach that mark on five different occasions.

He owns the record for the most seasons leading the league in passing yards, as he's finished top of those charts seven times.

Brees has the most career games of passing for 300-plus yards, doing so 123 times.

He has another record for the most consecutive games with a passing touchdown having thrown a scoring pass in 54 straight games.

Brees has been to 13 Pro Bowls, including in seven straight seasons from 2008-2014.

He holds a share of the single-game touchdown passing record with seven.

Brees never won the regular season MVP award, but finished second a record four times.