Maximuscle millionaire dies in speed record bid
http://www.bbc.co.uk/news/uk-england-54356616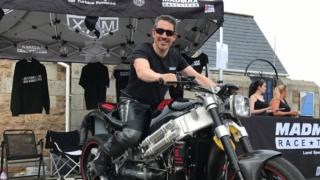 A millionaire fitness firm founder was killed attempting a British land speed record.
Zef Eisenberg, who launched Maximuscle, died at Elvington Airfield, near York, where in 2006 ex-Top Gear presenter Richard Hammond crashed.
Motorsport UK said the 47-year-old's car "went out of control at high speed at the end of a run" on Thursday.
Guernsey-based Mr Eisenberg was involved in a "near-death" 230mph crash at the same airfield in 2016.
Motorsport UK said Mr Eisenberg was attempting to break the British land speed record in a Porsche 911 Turbo S when he was killed at about 16:30 BST.
The organisation paid tribute to the "much-loved member of the motorsport community" and confirmed a full investigation into the crash had begun.
Mr Eisenberg left behind his partner Mirella D'Antonio and two children, it added.
Sports nutrition firm Maximuscle said it was "devastated" at the news of the Mr Eisenberg's death, who had "worked tirelessly" on his "brain child" during his ownership of the company.
Mr Eisenberg ran the Madmax Race Team, which attempts speed records with motorbikes and cars.
Before his previous crash, in which he suffered 11 broken bones including his pelvis, he had set other speed records at the airfield.
He returned to racing in 2017, despite concerns he would never walk again.
In 2019, Mr Eisenberg set the record for the "flying mile" at Pendine Sands in Wales, stealing the crown from actor Idris Elba, who himself had broken the record in 2015, after it had stood since 1927, when Sir Malcolm Campbell set the pace.
He also holds a Guinness world record for exceeding 225mph (363kmh) on a turbine-powered motorbike in 2015, as well as three FIA records for speeds achieved on an electric motorbike.
The businessman, who left school after his GCSEs, founded Maximuscle in 1995. It was sold to pharmaceutical giant GlaxoSmithKline in 2011 for £162m.
'Passion for speed'
Mr Eisenberg also presented ITV4 show Speed Freaks, which was aired last year.
ITV's Satmohan Panesar said: "Zef was a truly unique character whose passion for speed came across vividly in his presenting, and his personal and professional achievements are testament to his drive and determination.
"He will be missed enormously by everyone who worked with him and our condolences go to his friends and family."
Elvington was an RAF station until 1992, and has become a popular motorsports venue since entering private ownership.
It has hosted dozens of world record attempts, and is also used as a filming location.