Covid-positive MPs Parliament trip indefensible
http://www.bbc.co.uk/news/uk-scotland-54379026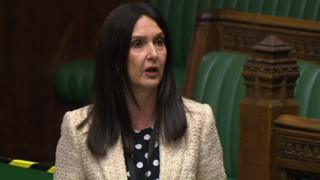 Scotland's first minister says the actions of an SNP MP who travelled to Westminster despite experiencing Covid symptoms are "utterly indefensible".
Margaret Ferrier said she made the journey because she was feeling "much better" – but also returned home after getting a positive test result.
She is facing calls to resign from opponents and SNP politicians, after she was suspended by the party.
Nicola Sturgeon tweeted her support for the decision to suspend the MP.
She said: "This is utterly indefensible. It's hard to express just how angry I feel on behalf of people across the country making hard sacrifices every day to help beat Covid.
"The rules apply to everyone and they're in place to keep people safe. @Ianblackford_MP is right to suspend the whip."
Glasgow East MP David Linden, one of Ms Ferrier's former SNP colleagues, told BBC Question Time she "should resign" as an MP.
His fellow SNP MPs, Kirsty Blackman and Stephen Flynn, have also called for her to step down.
Meanwhile, Ruth Davidson, former Scottish Conservative leader, told BBC Newsnight: "She shouldn't be an MP at all. That's on her and if she had a shred of decency she would [resign]," she said.
Taking public transport after testing positive amounted to an "absolutely reckless endangerment of person and of life", she added.
Ms Ferrier said she took a coronavirus test on Saturday after experiencing "mild symptoms", but travelled to London on Monday as she felt better.
The MP for Rutherglen and Hamilton West spoke in the coronavirus debate in the House of Commons on Monday, and said she received her positive test result that evening.
She then took a train back to Scotland on Tuesday.
Ms Ferrier said she had informed the police and that she deeply regretted her actions.
"I travelled home by train on Tuesday morning without seeking advice. This was also wrong and I am sorry," she said.
"I have been self-isolating at home ever since."
Police Scotland confirmed they had been contacted by Ms Ferrier, saying officers were "looking into the circumstances" and liaising with the Metropolitan Police Service.
The SNP's Westminster leader Ian Blackford said he had spoken to Ms Ferrier, who accepted that what she had done was wrong.
He said: "Margaret will be referring herself to the parliamentary standards commissioner as well as the police. I am tonight suspending the whip from Margaret."
Dave Penman, general secretary of the FDA union, which represents some Commons staff, said it was "such a deliberate and reckless act".
He told BBC Radio 4's Today programme: "It's a complete disregard for others. Coronavirus is like any other health and safety issue in the workplace – we all have obligations to other people and anyone who recklessly endangers other people has to face consequences."
When someone tests positive for coronavirus they normally attract sympathy and concern.
But that's in extremely short supply for Margaret Ferrier after she admitted breaking Covid self-isolation rules.
She may have apologised for attending parliament and making lengthy journeys by public transport with coronavirus but she has not offered an explanation.
Her behaviour is far more serious than the lockdown travel breach that cost Catherine Calderwood her job as Scotland's chief medical officer.
It is also more serious than the lockdown travels of the prime minister's adviser, Dominic Cummings, who Mrs Ferrier called on to resign.
It is no surprise then that the Conservatives are demanding the MP for Rutherglen and Hamilton West stands down from Parliament.
She has already been suspended by the SNP and the party leader, Nicola Sturgeon, has described her behaviour as "utterly indefensible".
House of Commons Speaker Sir Lindsay Hoyle wrote to MPs on Thursday evening to say he was informed after Ms Ferrier told the SNP whip on Wednesday afternoon that she had tested positive for Covid-19.
"The House authorities immediately took all necessary steps in line with their legal obligations and PHE [Public Health England] Guidance," he wrote.
"On the basis of the information supplied to the contact tracing system, only one individual has been identified as a close contact in relation to this case and is now self-isolating."
A House of Commons spokesperson said the House's priority was to ensure the safety of those working on the estate.
The statement added: "We have closely followed public health guidance on the action to take following a confirmed case of Covid on site.
"Parliament has a dedicated team to support the test and trace teams across the UK, acting as a central point of contact in the event of any suspected or confirmed cases, where an individual has been working on the estate."
'Unacceptable risk'
Labour MP Ian Murray said Ms Ferrier had shown "astonishing recklessness".
"She has put passengers, rail staff, fellow MPs, Commons staff and many others at unacceptable risk," he said.
"To breach the rules twice is simply unforgivable, and has undermined all the sacrifices made by her constituents."
Train drivers union Aslef described her actions as "both dangerous and disgraceful".
Ms Ferrier was one of the MPs who called on the prime minister's adviser Dominic Cummings to resign in the wake of the controversy over his visit to the North East of England during lockdown.
At the time, she said his actions had "undermined the sacrifices that we have all been making" and described his position as "untenable".