About 40 universities report coronavirus cases
http://www.bbc.co.uk/news/uk-54322935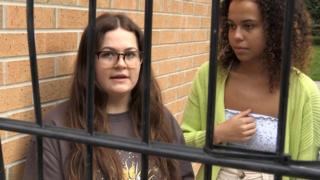 About 40 universities around the UK have had reports of coronavirus cases and thousands of students are self-isolating as the new term begins.
The University of Aberystwyth is the latest to suspend face-to-face teaching because of Covid-19.
But the prime minister's spokesman said students would be able to go home for the Christmas break.
In Scotland, Nicola Sturgeon said ensuring students could go home at Christmas would be a priority.
Fee refunds
On whether students in England should receive a fees refund, the prime minister's spokesman said universities were autonomous and would make their own decisions about fees.
Some students have questioned why they were told to leave home and pay for accommodation when most teaching is being done remotely.
There has also been uncertainty about when students can visit their homes.
Labour says pausing the return of universities should be considered, rather than risk further Covid outbreaks and self-isolation for students.
There are no official figures on university Covid outbreaks from the government, the Office for Students or Universities UK – but a tracking of local reports suggests more than 40 universities have had Covid cases so far, out of about 130 in total.
In the absence of official information, websites such as Unicovid, run by academics, have gathered data.
In Wales, the University of Aberystwyth said that from Monday in-person teaching would be temporarily suspended and courses would be taught online.
Online teaching
At Manchester Metropolitan University, all classes for first year and foundation year students will be online for the next 14 days.
At the University of Essex a cluster of cases has been linked to sports teams.
Universities affected by coronavirus cases include:
Many universities had promised students a mix of in-person and online teaching.
But with more switching to online there have been questions about students getting a refund or if they should be paying for university accommodation if lessons are delivered remotely.
Labour shadow education secretary Kate Green said the option of student fee rebates should be kept "absolutely on the table".
Nicola Dandridge, chief executive of the Office for Students, said universities had to give students clarity over how they would be taught if they had to go into isolation.
'They told us to come here…'
Students contacting the BBC have reported confusion and uncertainty about Covid outbreaks.
"A lot of people we know just left because they didn't want to get stuck here," said Eve, a first year at Manchester Metropolitan University.
"I can't go home because I live with my grandad and I don't want to risk him getting sick," she said.
"They're turning round and blaming us and telling us it's our fault when it was the uni that told us to come here in the first place."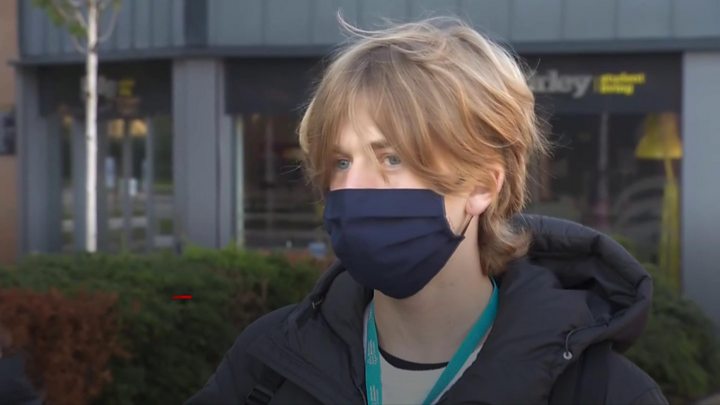 Parents have concerns too. Lluis Borrell has twin sons starting at Warwick and Nottingham and is worried about the risk of Covid and the negative impact of restricting students to staying within a small group of people.
"I understand the rules are needed but it makes any socialising very difficult," said Mr Borrell from Cambridge.
"Is this fair? Should he have gone in the first instance?
"It feels like they have gone there just to get Covid."
Another student at the University of Leeds, who wanted her name withheld, was so unhappy that she is planning to leave.
She said that she did not get on with the her neighbouring students, but is not allowed to meet students from other halls.
"We do not want to be stuck in our small bedroom in a space we have only just come to.
"We are paying so much money for this," she said.
Joe Ward at Manchester Metropolitan University said: "If I was made aware that this is how things would be and things would only be online then I definitely would have reconsidered going to university this year."
"I would definitely like to think that there might be some sort of compensation," he said.
His flatmate Natasha Kutscheruk said the initial lockdown "caused a lot of panic", saying the university "should have been prepared and organised before sending out an email saying we are locked down".
Almost a third of universities have had Covid cases already – and the new term is only getting underway, with more students still returning.
So the number of outbreaks is only likely to increase – raising urgent questions for university bosses, watchdogs and ministers about what should happen next.
It's not exactly the university experience that students imagined.
First years might be worried about going away from home, but they might now also be worried about not being able to get back, if they end up in an outbreak and are forced to self-isolate.
They were promised a mix of face-to-face and online teaching and have paid for accommodation – but the balance seems to be shifting more towards online lessons.
This means even less in-person time with other students and staff and more hours cooped up in their room with online recordings and academic versions of Zoom meetings.
So should universities just press on with this online-but-on-campus approach? Is it realistic for the rest of term? Or will it mean a loop tape of outbreaks and lockdowns?
Or do ministers or health officials step in and urge more students to study from home where possible?
Universities cherish their autonomy, but in this case it feels as though they're waiting for someone else to make a decision for them.
For students in England, the prime minister's spokesman said on Monday that students should follow health advice just like the wider public.
If they have tested positive or have symptoms they do need to self isolate – and should follow any local restrictions in place, said the spokesman.
But it was expected that all students would be able to return home at Christmas, said the PM's spokesman, after suggestions that students might have to remain in their student accommodation.
In Scotland, a briefing from First Minister Nicola Sturgeon offered reassurance that students could return home for the Christmas break.
There has been new guidance issued by the Scottish government which allows short home visits if there is a "reasonable excuse" such as a bereavement or family emergency.
Students can also move home and study from there permanently, but the default advice is to stay in university accommodation where possible.
Are you a student? How are the rules affecting you? Share your experiences by emailing haveyoursay@bbc.co.uk.
Please include a contact number if you are willing to speak to a BBC journalist. You can also get in touch in the following ways:
If you are reading this page and can't see the form you will need to visit the mobile version of the BBC website to submit your question or comment or you can email us at HaveYourSay@bbc.co.uk. Please include your name, age and location with any submission.