Brexit: No significant progress in trade talks
http://www.bbc.co.uk/news/uk-politics-52934128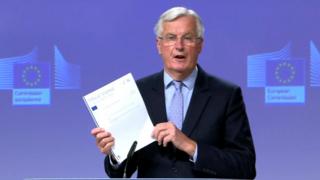 EU chief negotiator Michel Barnier has accused the UK of "backtracking" on its commitments in the latest round of post-Brexit trade talks.
He added that the UK should show more "respect" for the terms laid out between the two sides.
But the UK said it was "committed to a successful outcome" in the talks.
The UK has until the end of June to ask for the "transition period" – keeping it in the single market and customs union – to be extended into next year.
But Prime Minister Boris Johnson has ruled out seeking an extension.
UK chief negotiator David Frost said: "We continue to discuss the full range of issues, including the most difficult ones. Progress remains limited but our talks have been positive in tone."
Speaking in Brussels, Mr Barnier said he had to "speak the truth" about how negotiations – currently carried out online – were going, adding that they should "work better" when the sides meet in person, from later this month.
He accused the UK of "continuing to backtrack" on commitments it made in the political declaration signed with the EU, adding that it should be treated with "full respect".
He added: "We have always been open to the possibility of an extension of one or two years – as is possible under the exit agreement. And our door remains open."
Downing Street has accused the EU of making a series of "unbalanced" demands binding the UK to EU laws and standards to an unprecedented degree for a trade deal.
The two sides are also in dispute over fisheries, with the UK resisting EU demands for continued long-term access to British waters.
The talks come ahead of a "high-level" summit later this month.
And businesses – hit by the coronavirus pandemic – have raised concerns over a possible "cliff-edge" break to the UK's remaining access to the EU single market at the end of the year with no replacement deal.
Mr Frost has said he hopes a meeting later this month, at which both sides are due to review progress, could give "new impetus" to talks.
A date for the summit, expected to feature Boris Johnson and European Commission President Ursula von der Leyen, has not yet been fixed.
The UK left the EU on 31 January. The transition period lasts until 31 December and keeps the UK bound to most EU rules.
The sides currently have until then to reach a free-trade deal, needed if they want to do business without tariffs, quotas or other barriers in future.