Taking over the globe: Koreans hail Parasite win
http://www.bbc.co.uk/news/world-asia-51439899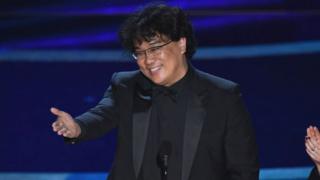 Thrilled South Koreans are celebrating the best picture win for Parasite at this year's Oscars.
The comedy-thriller film directed by Bong Joon-ho is the first non-English language film to win best picture.
"Can't believe I am hearing Korean language at the Oscars," said a user on the South Korean web platform Naver.
The film, a vicious social satire about two families from very different classes, also won three other awards – including best international feature.
'Celebrating Bong'
Many of the comments online focused on the director.
On Naver, the most searched term was "Bong Joon-ho", as more and more South Koreans celebrated the "historic victory".
"Congratulations Mr Bong, you are South Korea's pride," said one user. Another observed that "Korean films, dramas and music have taken over the globe".
The congratulations continued on Instagram.
"Congratulations Director Bong" #SweepingTheOscars," said one Korean comment.
"Hurray Bong Joon-ho! Hurray Korea! Hurray Oscars!" another added.
South Korean President Moon Jae-in was also quick to join in, tweeting that he was thankful to Bong for giving "pride and courage" to the country's people.
"An amusing yet sad movie, Parasite also conveys social messages in a novel, outstanding and successful way," President Moon said. "It reminds us of how touching and powerful a movie can be."
He also promised that the government "will stand with those in the film industry so that they can stretch their imagination to the fullest".
Meanwhile, Bong paid tribute to his country in his speech saying: "We never write to represent our country, but this is very personal to South Korea."
He added that he was "very ready to drink tonight until next morning".
Jeongmin Kim, Seoul correspondent for NK News, responded with: "Okay we should all really break out all the soju and makgeolli [Korean alcoholic drinks] to celebrate with Bong."
'Korean at the Oscars!'
Korean pride was also in full flow, even spilling on to Twitter, which is more commonly used by South Koreans overseas.
"I am proud to be Korean," said one comment – while another user said they "screamed so hard my throat hurts".
One person said hearing so much Korean on stage had turned them into "mess". And the actress Sandra Oh – star of Grey's Anatomy and Killing Eve – said she was "so so proud to be Korean".
'Asian representation'
Many people also pointed out how significant it was that an Asian movie became a major success at the Academy Awards.
"Watching Bong Joon-ho winning the #Oscars with a non-English film is an incredibly empowering experience for Asians, esp. those who work in creative fields," Jun Michael Park wrote on Twitter.
"Not only do we have to work extra hard for representation, but we also have to fight with our families to pursue our paths."
The government in the South Korean capital Seoul was also quick to react, sending a tweet advertising the filming locations.
Many cinemas across South Korea have decided to screen the 2019 film again, starting Monday evening.
Parasite has already won a string of awards including the Palme d'Or at the 2019 Cannes Film festival and at the Bafta.
Bong's previous films include Snowpiercer and Okja, a film about a girl who raises a genetically modified superpig.