Top Democrat calls for review of Iowa vote
http://www.bbc.co.uk/news/world-us-canada-51405812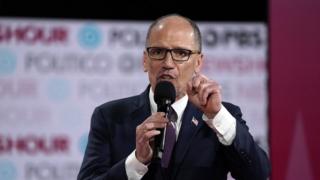 The chairman of the US Democratic National Committee (DNC) has called for a review of the vote totals in the contest to pick a presidential nominee in Iowa, after an array of problems.
Final results of the caucus held three days ago are still not available, with counting beset by technical problems and delays in reporting.
"Enough is enough," said Tom Perez. He said he wanted to ensure accuracy.
The Iowa Democratic Party said it had no plans to carry out an audit.
Around 97% of the state's precincts have reported their results so far. The Associated Press news agency has said it is unable to declare a winner.
Meanwhile Bernie Sanders, who is currently neck-and-neck with Pete Buttigieg, declared a "very strong victory".
Of the results that have been released so far, Mr Buttigieg has a lead of 0.1% in the number of delegates selected ahead of Mr Sanders, although Mr Sanders has a greater share of the popular vote.
Speaking in New Hampshire, where he is campaigning for the upcoming primary on Tuesday, Mr Sanders said: "When more than 6,000 more people come out for you in an election than your nearest opponent, we here in northern New England call that a victory."
Mr Buttigieg had already declared victory for himself on Monday, before any of the results were released.
The party blames the delay in results on a coding error in an app, called Shadow, which is being used for the first time to report the votes.
On Twitter, Mr Perez said a recanvass would not involve a recount of all votes, but a "review of the worksheets from each caucus site to ensure accuracy".
While Mr Perez holds sway within the national party organisation, only the Iowa Democratic Party (IDP) has the power to call for a recanvass of votes.
In a statement, IDP chair Troy Price said he acknowledged that "reporting circumstances on Monday night were unacceptable".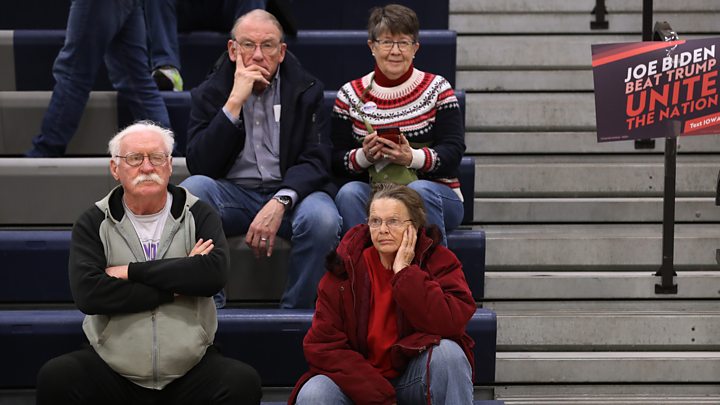 But Mr Price seemed to push back at the chairman's remarks, saying: "We owe it to the thousands of Iowa Democratic volunteers and caucusgoers to remain focused on collecting and reviewing incoming results".
He added that the IDP was prepared for a recanvass should any presidential campaign requested one. The IDP said the flaw in the app did not impact the accuracy of voting data and there were no signs of hacking.
Why does Iowa matter?
Iowa is the first contest in a string of nationwide state-by-state votes, known as primaries and caucuses, that will culminate in the crowning of a Democratic nominee at the party convention in Milwaukee, Wisconsin, in July.
Eleven candidates remain in a Democratic field that has already been whittled down from more than two dozen.
A caucus involves people attending a meeting – usually in schools, community centres and other designated buildings – and voting on their preferred candidate via a head count or a show of hands.
Each candidate is then given a set number of delegates proportionate to the number of votes they received. The delegates will then go on to vote for them at the party's convention in Wisconsin where the final presidential candidate is chosen.
Iowa awards only 41 of the 1,991 delegates required to become the Democratic White House nominee.
Who will take on Trump in November?