Second Turkey avalanche kills eight rescuers
http://www.bbc.co.uk/news/world-europe-51384440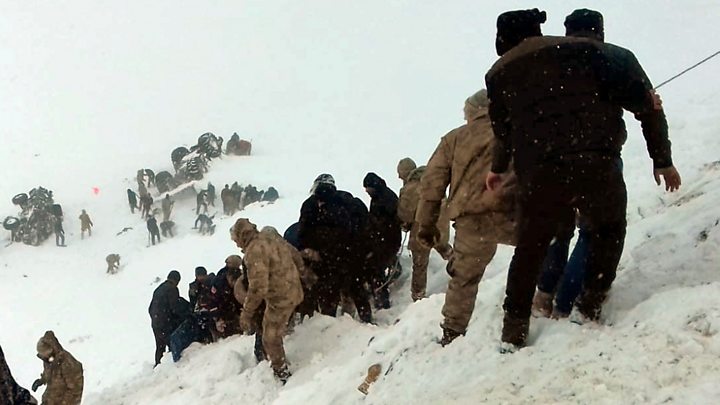 Thirty-three people have been killed and dozens more trapped after a second avalanche struck a mountainside in Turkey on Wednesday, officials say.
About 300 rescue workers were at the site, near the eastern border with Iran, dealing with an earlier avalanche on Tuesday that killed five people.
More than 50 people were believed to be trapped in vehicles in the area following the incident on Wednesday.
Pictures from the scene showed people being carried away on stretchers.
Footage also showed dozens of people using shovels in an attempt to reach victims.
Speaking at a ceremony in Turkey's central Kirikkale province, President Recep Tayyip Erdogan confirmed that at least 33 people had died in the second disaster.
"May they rest in peace," he said, adding: "Unfortunately, avalanches [and] landslides pose risks."
The latest figures bring the death toll from the two incidents to 38.
According to Turkish newspaper Hurriyet, the governor of Van province Mehmet Emin Bilmez said police officers, security guards, a firefighter and a number of civilians were among the dead.
Search and rescue efforts involving Turkey's Disaster and Emergency Management Authority (Afad) are ongoing. The interior ministry said 30 people had been pulled from the snow so far, according to Anadolu news agency.
The number of dead or injured could reportedly rise further.
Soldiers and locals from nearby Bahcesaray joined the rescue efforts, which were being hampered by fog and snow, Turkish broadcaster NTV reported.
At least two military aircraft were reportedly sent to the region from the capital, Ankara.
Two people remain missing after the first avalanche on Tuesday, which buried a minibus and a vehicle that was being used to clear snow.
A construction worker who was caught in the snow on Tuesday evening managed to escape and raise the alarm.
You may also be interested in: