Seized British tanker preparing to leave Iran
http://www.bbc.co.uk/news/world-middle-east-49849718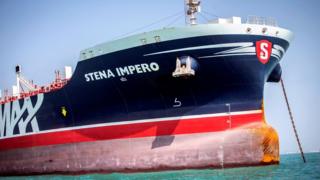 A British-flagged oil tanker is leaving Iran, after being held for more than two months.
The Stena Impero's Swedish owner, Stena Bulk, said it was on the move from the Bandar Abbas port, where it has been anchored since July.
The vessel was seized by Iranian troops in the Strait of Hormuz after they accused it of breaking maritime rules.
Officials say it left for international waters at 09:00 local time (05:30 GMT) on Friday morning.
Its seizure came two weeks after an Iranian tanker was held off Gibraltar with the help of the Royal Marines.
That ship was suspected of violating EU sanctions on Syria, but was released in August.
The operation against the Stena Impero was seen as retaliation for Britain's role in helping to seize the Iranian vessel, a link Tehran denied.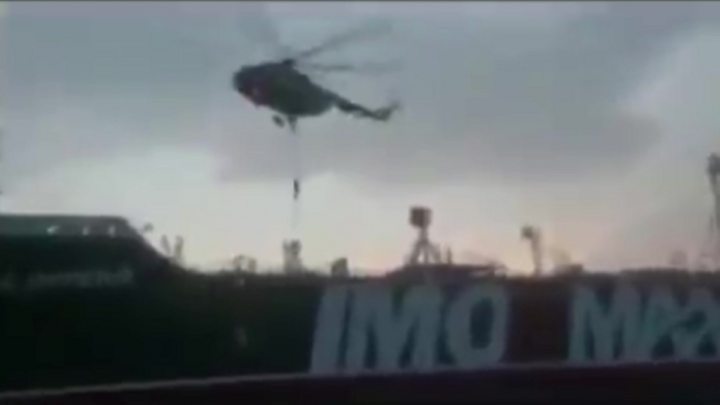 Why was the tanker seized?
The Stena Impero was passing through international waters in the Strait of Hormuz, a narrow waterway that connects the Gulf and the Indian Ocean, on 19 July when it was detained by Iran's Islamic Revolution Guard Corps.
Iran accused the vessel of colliding with a fishing boat and failing to respond to calls but the ship's owners denied there was evidence of this.
The UK said it deployed a Royal Navy frigate to come to the tanker's aid and warned Iranian authorities that their actions were illegal, but were unable to reach the scene in time.
The Stena Impero was then transported to Bandar Abbas, where it has remained anchored since.
Seven "non-essential" members of its crew were freed by Iran on humanitarian grounds earlier this month. Sixteen crew members – 13 Indians, two Russians and one Filipino – are thought to still be on board.
The tanker re-appeared on online shipping tracking websites on Friday – days after a detention order against it was lifted.
A statement from Iran's Ports and Maritime Organisation said the ship had been released "despite there being an open court case" against it.
The release comes amid high tensions in the region. There have been a series of confrontations over tankers in the Gulf and a recent attack on Saudi oil facilities – which both the US and Saudi Arabia have blamed on Tehran.
Tensions between the US and Iran have escalated this year, following President Donald Trump's abandonment of a deal aimed at limiting Iran's nuclear activities.