California loses power to set auto emission rules
http://www.bbc.co.uk/news/world-us-canada-49746701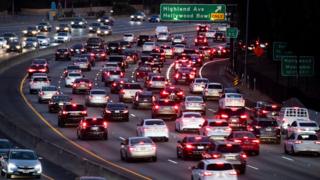 The White House has stripped California of its right to set its own auto emissions standards and banned other states from setting similar rules.
The waiver allowed the state – America's most populous – to set stricter standards than the federal government.
President Trump says the move will cut car prices and the impact on emissions will be minimal.
But it is likely to spark a legal battle over states' rights.
"The Trump administration is revoking California's Federal Waiver on emissions in order to produce far less expensive cars for the consumer," Donald Trump tweeted on Wednesday.
"Automakers should seize this opportunity because without this alternative to California, you will be out of business."
California has already taken steps to block the administration's efforts.
"We will fight this latest attempt and defend our clean car standards," said Governor Gavin Newsom in a statement on Tuesday.
This is the latest in a series of standoffs between Mr Trump and California.
What do the rules mean?
California's ability to set its own rules dates back to the 1970s when Los Angeles was blanketed in choking smog.
The state was allowed to set tougher emission standards than the federal government as long as it could provide a compelling reason for why the waiver was needed. In 1977, other states were allowed to adopt California's stricter standards.
California's standards have largely become the de-facto standard nationwide because car manufacturers do not design different sets of vehicles to meet different standards in different states. The state lays claim to about 12% of all vehicle sales.
Emissions control methods first used in California, such as catalytic converters and regulations on oxides of nitrogen, have become commonplace throughout the US.
In July, under the waiver system, California conducted secret negotiations with Ford, Honda, Volkswagen and BMW of North America who pledged to produce fleets that met a standard of 50 miles per US gallon (4.7 litres per 100km), against the current 37 mpg level, by 2026.
Increased fuel efficiency means vehicles burn less petrol and emit fewer polluting greenhouse gases into the atmosphere.