BA pilots begin two-day strike over pay
http://www.bbc.co.uk/news/business-49625303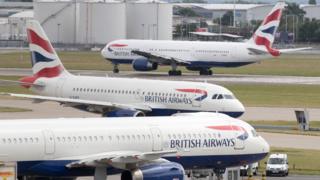 British Airways pilots have begun a two-day strike in an ongoing dispute over pay and conditions.
Tens of thousands of passengers have been told not to go to airports, and BA says most have made alternative arrangements.
Both BA and the pilots' union Balpa have indicated that they are willing to start new talks.
Nonetheless, the vast majority of BA flights taking off from the UK on Monday and Tuesday have been cancelled.
There was also a knock-on effect to flights on Sunday, because planes and pilots needed to be in position for prior and subsequent journeys.
Dozens of flights were cancelled and further unforeseen cancellations could happen on Wednesday.
In its most recent announcement, BA said: "We remain ready and willing to return to talks with Balpa."
Meanwhile, Balpa's general secretary, Brian Strutton, said: "It is time to get back to the negotiating table and put together a serious offer that will end this dispute."
It is the first time BA pilots have walked out and the action could cost the airline up to £40m a day.
Some 4,000 pilots will strike and almost all of the 1,600 flights that were due to fly will be grounded.
---
Analysis
Katie Prescott, business presenter, Today programme
It's unlikely that passengers will see that much disruption at airports tomorrow – most of the real problems have happened over the past few weeks as people have rushed to make other travel arrangements, rebook their flights or apply for refunds.
In terms of the negotiations, both sides say that they are open to talks but neither appears to have been in touch with the other, underlining just how acrimonious their relationship has become.
Ostensibly this is about pay, but there's also underlying discontent among pilots with the company's strategy. Some say they don't like British Airways' cost-cutting drive and they want to see more of the benefits of their bumper profits.
But industry insiders say BA has made those profits because they have cut costs. And that airlines are expensive and unpredictable beasts to run, in thrall to a fluctuating oil price (jet fuel accounts for a quarter of their operating costs) and random acts such as drones in the air.
If they don't come to an agreement in the next few weeks, another strike is scheduled for 27 September. The result of the pilots' union ballot allows strike action until the start of next year, but Balpa says it hopes to resolve the situation well before then.
---
How did we get here?
Pilots previously rejected a pay increase worth 11.5% over three years, which was proposed by the airline in July.
Balpa says that its members have taken lower pay rises and made sacrifices during more stringent times for the airline in recent years. The union insists that now that BA's financial performance has improved – its parent company IAG reported a 9% rise in profits last year – they should see a greater share of the profits.
BA says its pilots already receive "world-class" salaries. The airline believes the pay offer is "fair and generous", and that if it is good enough for BA cabin crew, ground staff and engineers – whose unions, Unite and the GMB, have both accepted it – it should be good enough for pilots, too.
The airline says once the 11.5% pay deal has fully taken effect in three years' time, some BA captains could be taking home more than £200,000 a year, allowances included.
Two weeks ago, BA informed some customers they would have to re-book their flights next week due to the planned industrial action.
Unfortunately, due to "human error" the airline mistakenly sent emails to some customers whose flights were not actually affected, throwing BA's customer service operations into a tailspin over the bank holiday weekend.
On Friday, BA said the "vast majority" of affected customers had now either accepted a refund or rebooked, either on alternative dates or with other airlines.
What rights do passengers have if their flight is affected?
BA advice says you can request a full refund, rebook your flight for another time in the next 355 days, or use the value of your fare to fly to a different destination.
If your flight has been cancelled due to a strike, the Civil Aviation Authority says passengers also have a legal right to a replacement flight at BA's expense to get you to your destination, even if this means travelling with a different airline.
Most affected passengers would already have been in contact with BA, but they may not have considered additional costs, such as airport parking. They are advised to keep receipts for these extra costs, and BA said it would look at refunding them on a case-by-case basis.
The cost of separate hotel or accommodation bookings that cannot be used may need to be claimed from travel insurance.
---
Are you affected by the BA strikes? Share your experiences by emailing haveyoursay@bbc.co.uk.
Please include a contact number if you are willing to speak to a BBC journalist. You can also contact us in the following ways: