Amber Rudd quits cabinet and Conservative party
http://www.bbc.co.uk/news/uk-politics-49623737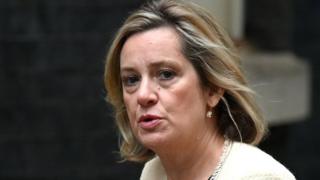 Amber Rudd has quit the cabinet and Conservative Party saying she cannot "stand by" while "loyal moderate Conservatives are expelled".
The work and pensions secretary said she no longer believed leaving the EU with a deal was the government's "main objective".
She described the sacking of 21 Tory MPs on Tuesday as an "assault on decency and democracy".
The MP for Hastings and Rye supported Remain in the 2016 referendum.
Ms Rudd said her resignation had been "a difficult decision".
In her resignation letter to PM Boris Johnson she said: "I joined your cabinet in good faith: accepting that 'No Deal' had to be on the table, because it was the means by which we would have the best chance of achieving a new deal to leave on 31 October.
"However I no longer believe leaving with a deal is the government's main objective."
In response to her resignation, shadow Brexit secretary Sir Keir Starmer tweeted that Mr Johnson's government was "falling apart".
Who is Amber Rudd?
The 56-year-old was appointed home secretary in July 2016
She has been MP for Hastings and Rye in East Sussex since 2010
Her majority in the 2017 election was just 346 votes
In the 2016 referendum, she was a Remain supporter – her brother helped fund the campaign
She resigned as home secretary in 2018 over the Windrush scandal, saying she "inadvertently misled" MPs
But an inquiry concluded she was let down by her officials and she returned to the cabinet as work and pensions secretary months later
Ms Rudd was married for five years to the late journalist and writer AA Gill
An Edinburgh University graduate, she previously worked in banking and recruitment
She was credited as a consultant on the 1994 hit film Four Weddings and a Funeral