Major rescue under way after California boat fire
http://www.bbc.co.uk/news/world-us-canada-49556638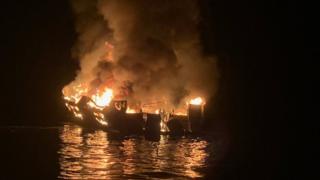 Four bodies have been recovered and 29 people are still missing after a boat was destroyed by fire off the coast of California, the US Coast Guard says.
Five people on board the commercial diving boat Conception were rescued.
The fire started in the early hours of Monday. The boat was anchored just metres off Santa Cruz Island, about 145km (90 miles) west of Los Angeles.
The vessel is now submerged as a search and rescue operation continues in foggy conditions.
Coastguard services overheard a mayday call at 03:30 local time (10:30 GMT), saying that the boat was engulfed in flames, according to Capt Monica Rochester, the coastguard sector commander for Los Angeles/Long Beach.
Reports say some passengers may have been trapped below deck.
Those who were rescued may have been sleeping in the main cabin of the boat rather than below.
They were awake and had jumped off the boat's bridge before a Good Samaritan vessel called The Grape Escape arrived to rescue them. One survivor has minor injuries.
The bow of Conception is still sticking out of the water.
It sank 20 yards (18m) off the north shore of Santa Cruz Island, at the depth of 64ft (20m).
Run by a diving company called Truth Aquatics, which has a 4.5 rating on Trip Advisor, Conception was used for chartered trips in the Channel Islands National Park.
It was on the final day of a three day scuba diving excursion for the Labor Day weekend.
The boat's layout shows three rows of double bunks with a shower room at the front of the boat.
"Pillows, blankets, reading lights, privacy curtain and personal storage are provided," the company's website says.
Capt Rochester said the boat was "fully in compliance" with no prior violations.
"We are grateful for the heroic efforts of first responders as they work to save lives," US Speaker of the House Nancy Pelosi wrote on Twitter.