Multiple casualties in Texas mass shooting
http://www.bbc.co.uk/news/world-us-canada-49540160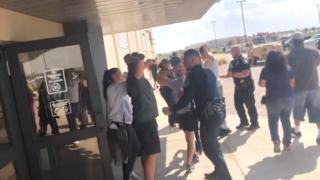 A mass shooting in the US state of Texas has left at least five people dead and many more injured, police say.
At least one gunman shot randomly at people while driving round the western cities of Odessa and Midland on Saturday afternoon.
Police say a suspect – a white male – has been shot and killed, but reports of other suspects at large are being investigated.
No motive for the shootings has yet been established.
The shootings come exactly four weeks after a gunman shot and killed 22 people and injured 24 others in the Texan city of El Paso.
A police spokesman confirmed five people had been killed and at least 16 injured in this latest outbreak of gun violence in America. Police officers were among the victims, he told reporters.
Odessa's Medical Center Hospital said a child under the age of two was among those being treated there. Seven other of its patients are in a serious condition.
Police said Saturday's incident began after an officer pulled over a vehicle driving on a highway in Midland.
The driver then opened fire on the officer before stealing a US Postal Service van and opening fire on people at random as he drove around.
The suspect was subsequently killed in an exchange of fire with the police outside a cinema in the city of Odessa.
"It was chaos in a matter of seconds," Junior Bejarano, a worker at a nearby restaurant, told the New York Times. "People were screaming, flipping chairs, dropping plates."
Texas Attorney General Ken Paxton said in a statement that he was "horrified to see such a senseless act".
In another statement, the state's Governor Greg Abbott said: "We will not allow the Lone Star State to be overrun by hatred and violence. We will unite, as Texans always do, to respond to this tragedy."
In a tweet, US President Donald Trump said he was being kept informed about the shootings in Texas.
Later, Vice President Mike Pence said he and the Trump administration "remain absolutely determined to work with leaders in both parties in Congress to take steps that we can address and confront this scourge of mass atrocity in our country".