Puerto Rico declares emergency over storm Dorian
http://www.bbc.co.uk/news/world-us-canada-49486154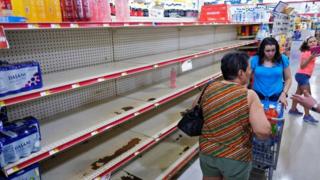 The US territory of Puerto Rico has declared a state of emergency as it braces for a tropical storm churning through the Caribbean.
The National Hurricane Center (NHC) has issued hurricane watch and tropical storm warnings for Puerto Rico and the Dominican Republic.
Forecasters now expect Tropical Storm Dorian to develop into a hurricane after making landfall in Puerto Rico.
President Donald Trump has approved an emergency declaration.
The move authorises US federal agencies to provide assistance and co-ordinate disaster relief.
By Wednesday morning, the storm was 290km (180 miles) south-east of Puerto Rico, approaching St Croix with maximum sustained winds of 60mph (96km/h), according to the NHC.
The NHC cautioned that tropical storm conditions are expected in Puerto Rico but hurricane conditions are also possible.
The centre said the storm may strengthen to a Category Two hurricane as it moves toward the east coast of Florida.
In Puerto Rico, a territory still recovering from the devastation wrought by Hurricane Maria in 2017, there are fears of power cuts and damage from strong winds.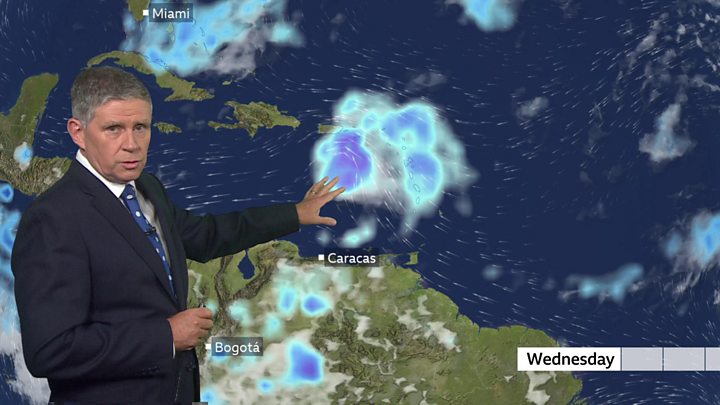 Up to 15cm (6in) of rain could fall in Puerto Rico and the Dominican Republic, where swells along coastlines could cause "life-threatening surf and rip current conditions", forecasters have said.
The governor of Puerto Rico, Wanda Vázquez Garced, who declared the state of emergency for the US territory on Monday, has called on its more than three million citizens to prepare.
"I urge citizens to activate their emergency plan with caution and peace of mind," Ms Vázquez said on Twitter.
About 360 shelters would be open across the island, the governor said.
"Wow! Yet another big storm heading to Puerto Rico," President Donald Trump said in a tweet on Tuesday. "Will it ever end?"
Where is Storm Dorian expected to hit?
The storm is expected to pass south-west of Puerto Rico and eastern Hispaniola, possibly as a Category 1 hurricane, on Wednesday night.
"Slow strengthening is forecast during the next 48 hours, and Dorian is forecast to be near hurricane strength when it moves close to Puerto Rico and eastern Hispaniola," the NHC said.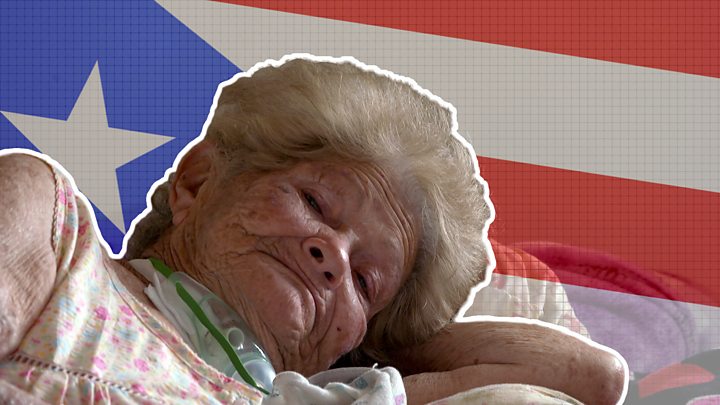 On Thursday, Dorian is forecast to make landfall in the Dominican Republic, before moving past the Turks and Caicos and south-eastern Bahamas on Friday.
According to the NHC's latest projections, the storm could make landfall in the US state of Florida late on Friday night or early Saturday morning.
Tropical storm warnings have been lifted for St Vincent and the Grenadines.
Why is Puerto Rico so concerned?
Puerto Rico is still vulnerable after Hurricane Maria ravaged the island in September 2017, killing an estimated 2,975 people and causing a humanitarian crisis.
A report by the National Oceanic and Atmospheric Administration (NOAA) suggested Maria had caused $90bn (£73bn) of damage in Puerto Rico and the US Virgin Islands.
Since Maria hit, Puerto Rico has struggled to repair its infrastructure and power grid, with Mr Trump signing a $19bn disaster relief bill for the island.
Ahead of Storm Dorian, Puerto Ricans have been alert to the dangers, stocking up on water, food and generators in preparation.
Zaida Garcia, a resident on the island, told ABC News that "everybody's going bananas" as the storm approaches.
"We can't afford another one, I'm telling you. We can't afford another one," she said.
In a statement, the US Federal Emergency Management Agency (Fema) said, although Dorian is less severe than Maria, it could still "have a significant impact".
---
Are you in the affected region? What preparations are you making for Tropical Storm Dorian? Email haveyoursay@bbc.co.uk.
Please include a contact number if you are willing to speak to a BBC journalist. You can also contact us in the following ways: