US judge blocks Missouri abortion law
http://www.bbc.co.uk/news/world-us-canada-49490344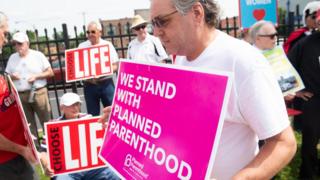 A US federal judge has temporarily blocked a new law banning nearly all abortions in the state of Missouri after eight weeks of pregnancy from going into effect.
It was set to take effect on Wednesday.
The legislation bans abortions after eight weeks except in cases of medical emergency.
US District Judge Howard Sachs said it was not to be enforced, "pending litigation or further order of the court".
The ruling to delay the law's enforcement followed a legal challenge by Planned Parenthood and the American Civil Liberties Union. They sued Missouri last month, arguing that the law was unconstitutional and went against the Supreme Court's landmark 1973 Roe v Wade ruling, which legalised abortion nationwide.
"The legislation on its face conflicts with the Supreme Court ruling that neither legislative or judicial limits on abortion can be measured by specified weeks or development of a foetus; instead, 'viability' is the sole test for a state's authority to prohibit abortions where there is no maternal health issue," the judge wrote in an 11-page opinion.
Similar laws have been struck down in other US states.
Attorneys for the state can now appeal against the judge's ruling. They say that "protecting foetal life" and protecting women is the state's goal, according to the Associated Press news agency.
What does the legislation say?
The law, dubbed Missouri Stands With The Unborn, would outlaw performing an abortion in nearly all cases.
Exemptions would be made for medical emergencies, but not pregnancies caused by rape or incest.
Doctors who performed abortions more than eight weeks into pregnancy would face five to 15 years in prison.
A woman who had an abortion would not be held criminally liable.
Republican Governor Mike Parson said it would allow Missouri to become "one of the strongest pro-life states in the country".
What is the background?
Abortion is one of the most divisive political issues in the US.
Missouri already has some of the nation's most restrictive abortion regulations, with just one clinic in the state currently performing abortions.
A judge in May temporarily blocked Missouri from becoming the first US state not to have an abortion clinic in nearly half a century.
Why is this happening now?
The Missouri bill was approved amid a nationwide push for new restrictions by opponents of abortions.
They have been emboldened by the addition of two conservative justices nominated by President Donald Trump, Neil Gorsuch and Brett Kavanaugh, who give the nine-member court a conservative majority.
Their aim, they say, is for the landmark 1973 Roe v Wade ruling to be undermined or overturned completely.