Puerto Rico braces for possible hurricane
http://www.bbc.co.uk/news/world-us-canada-49486154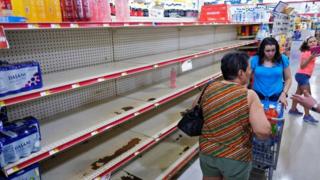 The US territory of Puerto Rico has declared a state of emergency as it braces to be hit by a tropical storm churning through the Caribbean.
The National Hurricane Center (NHC) has issued hurricane watch and tropical storm warnings for Puerto Rico and the Dominican Republic.
Warnings are in place for the islands of Martinique, Saba and St Eustatius.
Forecasters expect Tropical Storm Dorian to develop into a hurricane in the next 24 hours.
By Tuesday morning, the storm was 96km (60 miles) northwest of the island of St Lucia, with maximum sustained winds of 50mph (85km/h), according to the NHC.
In Puerto Rico, a territory still recovering from the devastation wrought by deadly Hurricane Maria in 2017, there are fears of power cuts and damage from strong winds.
Up to 15cm (6in) of rain could fall in Puerto Rico and the Dominican Republic, where swells along coastlines could cause "life-threatening surf and rip current conditions", forecasters have said.
The governor of Puerto Rico, Wanda Vázquez Garced, who declared the state of emergency for the US territory on Monday, has called on its more than three million citizens to prepare.
"I urge citizens to activate their emergency plan with caution and peace of mind," Ms Vázquez said on Twitter.
Around 360 shelters will be open across the island, the governor said.
Where is Storm Dorian expected to hit?
The storm is expected to pass southwest of Puerto Rico and eastern Hispaniola, possibly as a Category 1 hurricane, on Wednesday night.
"Slow strengthening is forecast during the next 48 hours, and Dorian is forecast to be near hurricane strength when it moves close to Puerto Rico and eastern Hispaniola," the NHC said.
On Thursday, Dorian is forecast to make landfall in the Dominican Republic, before moving past the Turks and Caicos and southeastern Bahamas on Friday.
According to the NHC's latest projections, the storm could make landfall in the US state of Florida late on Friday night or early Saturday morning.
Tropical storm warnings have been lifted for St Vincent and the Grenadines.