Australian writer faces spying charges in China
http://www.bbc.co.uk/news/world-australia-49479020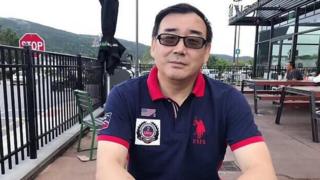 Chinese-Australian writer Yang Hengjun has been formally arrested on espionage charges in China, Australian officials have confirmed.
The Australian citizen has been held in Beijing since January under "harsh conditions", said the foreign ministry.
Foreign Minister Marise Payne said Australia was "very concerned and disappointed" to learn of the arrest.
"We have serious concerns for Dr Yang's welfare, and about the conditions under which he is being been held," she said.
Mr Yang's supporters told the BBC the formal arrest, on 23 August, was an expected but concerning development in his case.
He had been held without charge for more than seven months, during which Canberra has repeatedly pressed Beijing to release him.
"China has not explained the reasons for Dr Yang's detention," Ms Payne said in a strongly worded statement on Tuesday.
"I respectfully reiterate my previous requests that if Dr Yang is being held for his political beliefs, he should be released," she said.
Who is Yang Hengjun?
Mr Yang, a novelist and former Chinese diplomat, had lived outside of his home country for more than a decade, but maintained a popular blog on Chinese current affairs and international relations.
He was active on Chinese social media and Twitter, where he had more than 130,000 followers and was known as "the democracy peddler". But he had not been directly critical of Chinese authorities in recent years.
In January, the New York-based writer travelled to China with his wife Yuan Ruijuan and her child – both Chinese citizens – where he was detained at the airport in Guangzhou.
Beijing has held him for alleged "involvement in criminal activities endangering China's national security" ever since.
His supporters say he has been subject to continuous interrogation under "residential surveillance" – a term often used when Chinese investigators hold a suspect in an unknown location.
What is happening now?
China has allowed Australian consular officials to visit him, but he has been denied access to his family and lawyers. He is expected to be moved to a state prison now, his supporters said.
On Tuesday, Australia reiterated its expectations that he would be treated "in accordance with international human rights law". Beijing has not provided any comment on Mr Yang's detention.
His friend, Sydney academic Feng Chongyi, told the BBC he believed he had been subject to torture and inhumane treatment during detention.
"Yang is a brave person and psychologically very strong," Mr Feng said.
"He has already withstood the torture and interrogation of the past seven months and not given in. I think he would be ready to face any form of punishment dealt to him by the Chinese government."
He suggested Mr Yang's arrest was part of a renewed crackdown by Beijing on Chinese democracy activists and writers abroad.
"Because he had a sizeable influence online, he was targeted. Whatever happens to him now all depends on the pressure exercised by the Australian government and the international community," Mr Feng said.
He also likened Mr Yang's situation to the cases of detained Canadian citizens Michael Kovrig and Michael Spavor, who were detained just a few weeks before Mr Yang and have also been formally arrested for spying.
China has denied the detention of the two men is tied to Canada's arrest of a senior Huawei official, Meng Wanzhou, but many analysts have characterised it as a tit-for-tat action.