Trump accuses Jewish Democrats of disloyalty
http://www.bbc.co.uk/news/world-us-canada-49417157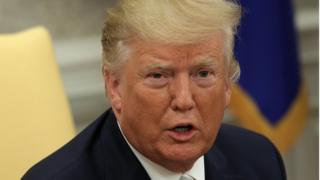 US President Donald Trump has said Jewish Americans who vote for the Democratic Party show "either a total lack of knowledge or great disloyalty".
The remark drew sharp criticism that Mr Trump had used an anti-Semitic trope that accuses Jews of "dual loyalty".
The Jewish Democratic Council of America said the president was trying to "weaponise and politicise anti-Semitism" for political gain.
The remark followed attacks by Mr Trump on two Muslim Democratic congresswomen.
The president has repeatedly accused Democratic representatives Ilhan Omar and Rashida Tlaib of anti-Semitism.
Under pressure from Mr Trump, Israel last week blocked Ms Omar and Ms Tlaib from entering the country. The two women, who are prominent critics of the Israeli government, had been due to visit the occupied West Bank and East Jerusalem.
Israel later agreed to let Ms Tlaib make a "humanitarian" visit to her grandmother in the occupied West Bank, but she declined, saying she could not comply with the "oppressive conditions" being imposed.
Trump's comments 'make no sense'
Analysis by Paul Danahar, Americas Bureau Chief
President Trump is not a man who is careful with his words. He has often seemed to consider exaggerations, untruths and insults to simply be part of the rough and tumble of American politics.
But words matter for the Jewish community because words have been used throughout history as a means to slaughter them by the millions. So when President Trump casually threw out what appeared to be an anti-Semitic trope about 'dual loyalty' during his freewheeling press conference in the oval office, Jews had reason to be alarmed.
In the present climate, with an resurgence of white supremacists and neo-Nazis, the President, seeming to question where their 'loyalty' lay, will be truly frightening for the Jewish community. It re-injects a racist fringe group conspiracy into the body politic.
The allegation makes no sense on many levels but also because many Jews have found their political home in the Democratic Party because, in its modern form, it has been the party that's sought to protect minority groups. Many American Jews, just like many American Christians, are very supportive of the State of Israel even if they are often sharply critical of the Israeli government. However it's only Jews that are quizzed about what that support says about their loyalty to the US.
With white nationalists across the world often writing '"political manifestos" before they commit mass murder against minorities, the old World War II adage that 'Careless words cost lives' seems increasingly relevant today for anyone who holds public office.
What did the president say?
Speaking to reporters on Tuesday, Mr Trump said: "I think any Jewish people that vote for a Democrat, I think it shows either a total lack of knowledge or great disloyalty."
In a tweet on Wednesday morning he quoted a conservative commentator's praise on Twitter who said "the Jewish people in Israel love him like he's the King of Israel".
"They love him like he is the second coming of God," Mr Trump's tweet continued.
Why is it being called anti-Semitic?
The remark was denounced by a number of Jewish American groups, which said it called on an established anti-Semitic trope that accuses Jews of being more devoted to Israel or their faith than to their own countries.
The same notion of dual loyalty has landed Congresswoman Omar in hot water.
She has apologised after claiming that Israel had "hypnotised" the world, and was rebuked by the Democrat-controlled House of Representatives over comments targeting lobbying firms who support Israel.
Ahead of the vote, which condemned "hateful expressions of intolerance", Ms Omar pushed back by questioning what she termed "the political influence in this country that says it is OK for people to push for allegiance to a foreign country".
The comment sparked fresh complaints of anti-Semitism.
What have critics said?
"If this is about Israel, then Trump is repeating a dual loyalty claim, which is a form of anti-Semitism," Halie Soifer, executive director of the Jewish Democratic Council of America, wrote on Twitter.
"If this is about Jews being 'loyal' to him, then Trump needs a reality check", she continued.
Jonathan Greenblatt, the head of the Anti-Defamation League, said "charges of disloyalty have long been used to attack Jews", while the American Jewish Committee described the remark as "inappropriate, unwelcome and downright dangerous".
Independent Senator Bernie Sanders said he was "a proud Jewish person…[with] no concerns about voting Democrat."
On Wednesday morning, the hashtag "#DisloyalToTrump began trending as Jews took to Twitter to criticise the president.
Recent polls show that roughly 75% of Jewish Americans identify as Democrats.