Kyrgyzstan ex-president resists second raid
http://www.bbc.co.uk/news/world-asia-49273236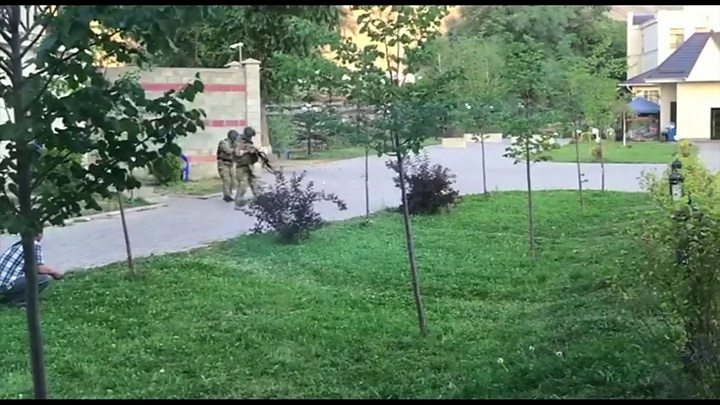 Kyrgyzstan's security forces have launched a second attempt to arrest former President Almazbek Atambayev after a botched raid overnight resulted in the death of one officer.
Mr Atambayev has refused to surrender to police for questioning over corruption allegations.
His supporters took up arms to defend the former president during the first operation on Wednesday night.
Six soldiers who had been captured were released earlier on Thursday.
Shortly afterwards, gunfire and stun grenades were reported at the home on the outskirts of the capital, Bishkek.
Local media reported that special forces used an armoured vehicle to break through the gates of the compound, and soldiers have blocked roads leading to Mr Atambayev's residence. Journalists are being kept away from the scene.
"A second raid has just begun," lawmaker Irina Karamushkina, an ally of Mr Atambayev, told AFP. She said his supporters were "ready to defend the former president to the end."
She said about 1,000 people stood on each side of the standoff – though other sources said there were 1,000 police and only a few hundred on Mr Atambayev's side.
The former president was believed to be inside the compound. He had planned a rally on Thursday, but cancelled it and called his supporters back to defend his residence.
Authorities want him questioned over accusations of corruption, which he claims are politically motivated and orchestrated by his former ally and successor Sooronbai Jeenbekov.
President Jeenbekov said Mr Atambayev had "grossly flouted" the law by "putting up severe armed resistance" to police. Mr Jeenbekov recalled parliament, which was considering introducing a state of emergency.
What happened overnight?
The raid began late on Wednesday evening. Video footage appeared to show Mr Atambayev walking around in the open, shaking hands of supporters, when gunshots are suddenly heard and the crowd scatters.
According to Kyrgyzstan's national security committee (GKNB), special forces armed "only with rubber bullets" were undertaking a "special operation to detain" the former president on Wednesday.
As the troops moved in, the GKNB said, Mr Atambayev's supporters fired back with live ammunition.
But Mr Atambayev has taken responsibility for the shooting, saying only he had a gun.
The health ministry said 36 people were injured in the clashes in Koi Tash village, including several members of the security forces.
"A special forces officer was delivered [to hospital] in an extremely serious condition with a gunshot wound. Despite resuscitation attempts, he died," a health ministry statement said.
Local media reports say six other soldiers were being held by Mr Atambayev's followers shortly after the raid was repelled.
As night fell, roads leading to the compound were barricaded by Mr Atambayev's supporters while security forces regrouped nearby.
Witness Mirbek Aitikeyev, who posted footage of the raid on Facebook, told AFP news agency that some of those protecting Mr Atambayev had seized weapons from the special forces, who "retreated under the onslaught of the crowd".
"Atambayev is still at his home… there are rumours that additional forces will be sent. The people here are making preparations," he said.
A return to violence
By Abdujalil Abdurasulov, BBC News
The end of Almazbek Atambayev's presidency in 2017 was hailed as the first peaceful power transfer in independent Kyrgyzstan achieved through elections. But recent events show that violence was merely postponed for two years.
Sooronbay Jeyenbekov was seen as Mr Atambayev's hand-picked successor – but something went wrong, and Mr Atambayev fell out with the new president. Mr Atambayev retreated to his village house where he surrounded himself with his supporters. Yet many were still shocked when the operation to detain Mr Atambayev involving special forces started.
Military vehicles and ambulances speeding to the village, along with reports of a shootout, fuelled an atmosphere of fear. But the general public do not appear to support either side.
Many are angry that a conflict between two politicians is threatening stability of the entire country. "Don't be fooled that we're choosing between [Atambayev] and the current government. They're from the same flesh," wrote Azim Azimov, a popular blogger.
What's the context?
Kyrgyzstan is one of the Central Asian republics that became independent with the collapse of the Soviet Union in 1991. It is about two-thirds the size of the United Kingdom, but with a population of just six million – most of which are Turkic-speaking Muslims.
The country remains relatively poor, with a GDP per capita on par with Cameroon or Kenya. Dissatisfaction with the government has meant a lack of political stability since independence – the first two post-Soviet presidents were deposed after waves of mass protests.
Population 6 million

Area 199,900 sq km (77,182 sq miles)

Major languages Kyrgyz, Russian

Major religions Islam, Christianity

Life expectancy 67 years (men), 75 years (women)

Currency som
Getty Images
Relations between Mr Atambayev and Mr Jeyenbekov soured after the transfer of power, and observers say Mr Jeenbekov moved to sideline his predecessor politically last year by removing Atambayev loyalists from positions of power.
Parliament stripped Mr Atambayev of his immunity so that he could be sent a subpoena to appear as a witness – in a case involving the unlawful release of a Chechen crime boss in 2013. He has ignored three subpoenas from the interior ministry.
But he is also accused of multiple incidents of corruption – all of which he denies. He has ignored orders to surrender to police for questioning, characterising them as illegal.
An increasingly embattled Mr Atambayev travelled to Moscow last month for talks with President Vladimir Putin, but the Russian leader expressed his support for Mr Jeenbekov and urged the country "to unite around the current president".
Mr Jeenbekov's office said he was cutting short a holiday to return to Bishkek and had called a meeting of the country's security council for Thursday morning.