Trump visits cities shaken by mass shootings
http://www.bbc.co.uk/news/world-us-canada-49261795
US President Donald Trump has arrived in Texas as part of a visit to two cities traumatised by mass shootings that took 31 lives.
Hispanic people were targeted in an apparent hate crime when a gunman in El Paso shot dead 22 people on Saturday.
Mr Trump himself has been accused of stoking hatred against Hispanic people.
He came to Texas from Dayton, Ohio, where he had visited a hospital to meet survivors of a shooting in which nine people died.
Mr Trump said before leaving Washington that he was concerned about "the rise of any group of hate… whether it's white supremacy" or any "other kind of supremacy".
But the Democratic congresswoman who represents El Paso, Veronica Escobar, is refusing to meet him, saying his "racist and hateful words & actions" had caused pain to her community and her country.
The El Paso shooting is being treated as a possible hate crime. Much of the city identifies as Hispanic and the suspect is thought to be the author of a text posted online which said "this attack is a response to the Hispanic invasion of Texas".
The text echoed some of the US president's language, with Mr Trump having frequently used the term "invasion" to describe the situation on the US-Mexico border.
Police have still to establish a conclusive motive for the Dayton attack but say they have uncovered evidence "that the shooter was exploring violent ideologies".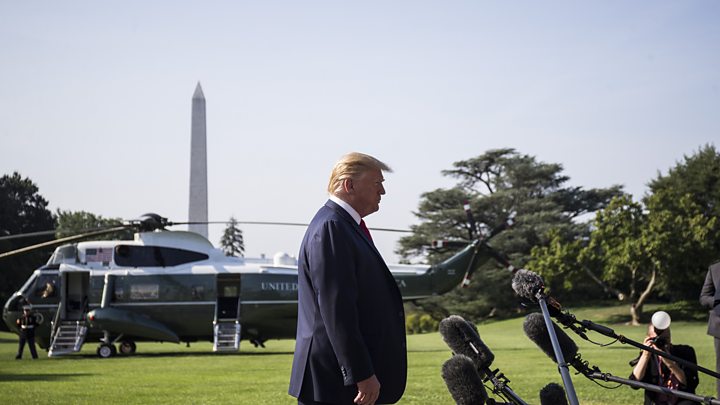 Attempts by Mr Trump and others to link the shootings to mental illness have been criticised by healthcare professionals.
On Wednesday, the president said he did not "want guns in the hands of sick people" and was "looking to do background checks".
What is the mood in El Paso?
Mr Trump and his wife Melania were met at the airport by Texas Governor Greg Abbott and El Paso Mayor Dee Margo before being driven away.
They are due to visit first responders, hospital staff, victims and families at the city's University Medical Center.
In the city, Ms Escobar and Democratic presidential hopeful Beto O'Rourke attended an "El Paso Strong" rally, where Mr O'Rourke said the president was "vilifying" immigrants.
Earlier, he accused Mr Trump of "inspiring" the attack in his native city through his "racism".
Mr Trump had mocked the candidate's childhood Spanish nickname "Beto".
As the president was travelling to El Paso Joe Biden, the frontrunner in the race for the Democratic presidential ticket, also attacked Mr Trump, accusing him of fanning "the flames of white supremacy".
What did Trump say in Dayton?
The shooting happened in a part of the city popular for its nightlife at 01:07 local time (05:07 GMT) on Sunday.
The presidential couple were greeted at a local air base by Dayton Mayor Nan Whaley.
"I think he heard me," the Democratic politician told reporters afterwards. "I don't know if he will take action… [on] the need for commonsense gun legislation."
The Trumps then went on to Dayton's Miami Valley Hospital to meet survivors, emergency workers and staff. "You had God watching," the president told survivors and families. "I want you to know we're with you all the way."
Outside the hospital, protesters flew a "baby Trump" balloon and held signs reading "Do Something", "Save our city" and "You are why", Reuters news agency reports.
"He's the president and he has a lot of power, and he's been using it to incite violence, and we need him to use it to incite peace," an unnamed demonstrator told CBS.
"He's creating division in the country, and we need to speak up. You know, assault weapons – it's crazy what's going on with these weapons, they need to be restricted."
Trump the consoler?
By Anthony Zurcher, BBC News
In the face of tragedy, the American public has come to expect US presidents to serve as "consoler in chief" – soothing the nation's frayed nerves and giving voice to its grief.
This is a relatively new role for the American chief executive, made possible in part by the ease of modern travel and the spread of mass media. It's also a role with which the current president has sometimes struggled.
By now the pattern is familiar. After a mass shooting or other tragedy, Mr Trump gives a televised speech, complete with references to religious scripture, expressions of sympathy for the affected and praise for first responders.
Then, in the following days, the off-the-cuff president – the one who loves firing off tweets, riffing to crowds at campaign rallies and giving impromptu press conferences – undermines his scripted rhetoric.
After Charlottesville, the president described some among the crowd of the torch-bearing white supremacists as "very fine people". During a photo op in hurricane-ravaged Puerto Rico, Mr Trump glibly tossed paper towels at an aid station and feuded with the territory's public officials.
Mr Trump has notable political abilities – ones that have allowed him to rocket to the highest office in the US. He has yet to demonstrate, however, that public displays of empathy are a reliable part of his skill set.
What else did Trump say about the shootings?
In a speech on Monday, he said: "In one voice, our nation must condemn racism, bigotry and white supremacy.
"These sinister ideologies must be defeated," he added. "Hate has no place in America."
As well as advocating mental health gun control reforms, he called for the death penalty for those who committed mass murder and more bi-partisan co-operation over gun laws.
White House spokesman Hogan Gidley said it was "ridiculous" to blame Mr Trump for the El Paso shooting, adding, "You have to blame the people here who pulled the trigger."
What did Trump say about mental illness?
"Mental illness and hatred pull the trigger, not the gun," Mr Trump said in his speech on Monday.
Calling for a reform of mental health laws, he called mass killers "mentally ill monsters".
Governor Abbott, a fellow Republican, said after the El Paso attack that mental health was a "large contributor to any type of violence or shooting violence".
In a statement condemning the gun attacks, the American Psychiatric Association warned against stigmatising mentally ill people.
"It is important to note that the overwhelming majority of people with mental illness are not violent and far more likely to be victims of violent crime than perpetrators of violence," it said.
"Rhetoric that argues otherwise will further stigmatise and interfere with people accessing needed treatment. Individuals can also be emboldened to act violently by the public discourse and divisive rhetoric."
What happened in the two attacks?
On Saturday morning, at 10:39 local time (16:39 GMT), a gunman opened fire in a crowded Walmart in El Paso, killing 22 people and injuring 24 more.
A suspect, named by US media as Patrick Crusius, was arrested at the scene shortly after.
The 21-year old has been charged with capital murder, meaning he could face the death penalty.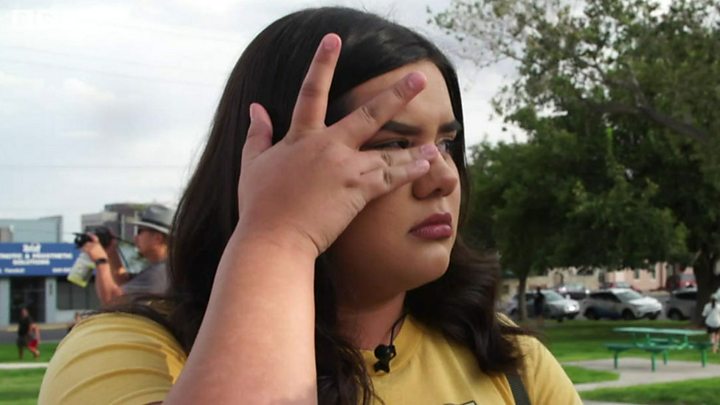 In Dayton, police killed the gunman, 24-year-old Connor Betts, within 30 seconds of him opening fire.
Among the dead was Betts's sister, Megan. CCTV footage obtained by CNN showed the two drinking together at a nearby bar a couple of hours before the shooting began.