Trump denies new accusations of racism
http://www.bbc.co.uk/news/world-us-canada-49149759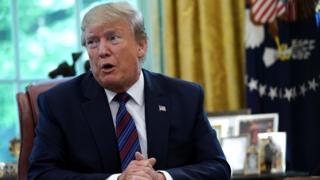 US President Donald Trump has denied being a racist after remarks he made about a black Democratic Congressman and the US city of Baltimore.
Mr Trump had attacked Rep Elijah Cummings, calling Mr Cummings' majority-black Baltimore district a "disgusting, rat and rodent-infested mess".
Several leading Democrats, including House speaker Nancy Pelosi, criticised the president for his language.
Mr Trump deflected the criticism, accusing Mr Cummings of racism.
"There is nothing racist in stating plainly what most people already know, that Elijah Cummings has done a terrible job for the people of his district," the president wrote in one of several tweets on Sunday.
"Dems always play the race card when they are unable to win with facts," he wrote.
Mr Trump has previously turned accusations of racism back on those accusing him, without evidence. He did not offer any examples of Mr Cummings being racist.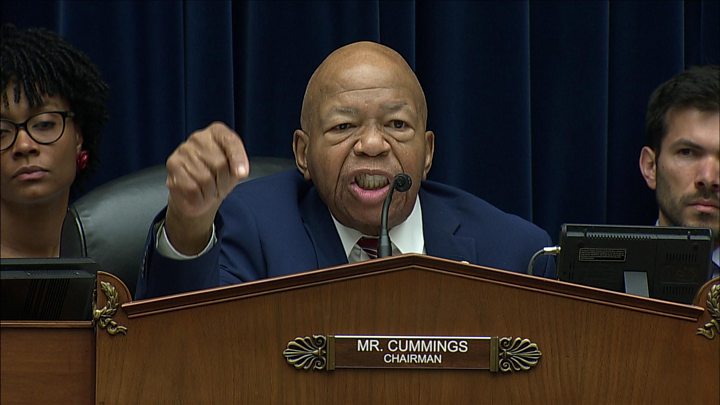 As chairman of the House Oversight Committee, Mr Cummings has instigated a series of investigations into the Trump administration, including its handling of migrants at detention centres.
President Trump's remarks came just weeks after he was criticised for another tweet in which he told four Democratic Congresswomen – all women of colour – to "go back" to the "crime infested" places they came from.
All four Congresswomen – Alexandria Ocasio-Cortez, Rashida Tlaib, Ayanna Pressley, and Ilhan Omar – are American citizens. Three were born in the US, while one, Ilhan Omar, came to the US as a child refugee. Days later, at a rally in New Jersey, some of President's Trump's supporters chanted "send her back!", in reference to Ms Omar.
The president's description of Mr Cummings' Baltimore district, and his attacks on the four congresswomen, echoed similar language he had used in the past to describe mostly-black districts and African countries, which he reportedly called "shitholes".
A week before his inauguration in January 2017, Mr Trump lashed out at the black congressman and civil rights hero John Lewis, who had refused to attend his inauguration, calling Mr Lewis' district "crime infested".
What was the row with Cummings about?
A war of words began between the two men last week after Mr Trump said Mr Cummings was a "bully". He also took aim at his majority-black Baltimore district.
In response, several Democrat lawmakers – including Ms Pelosi and presidential frontrunner Joe Biden – defended Mr Cummings and accused the president of racism.
Mr Cummings responded in kind, tweeting: "It is my constitutional duty to conduct oversight of the Executive Branch. But, it is my moral duty to fight for my constituents."
How has Trump responded?
In a series of tweets, the president doubled down on his attacks on Mr Cummings and his Democrat colleagues.
"There is nothing racist in stating plainly what most people already know, that Elijah Cummings has done a terrible job for the people of his district," said Mr Trump.
He has also defended his economic record with "our Nation's great African American people."
How have people reacted?
The response from Republican Party representatives was mostly muted.
In a statement, Maryland's Republican Governor Larry Hogan said "more attacks between politicians aren't going to get us anywhere".
The state's Lt Gov Boyd Rutherford, meanwhile, tweeted that he had "substantial policy differences" with Mr Cummings, but hoped the president's criticism was "not directed at the many good and hard working people who live in the district".
The hashtags #WeAreBaltimore and #WhitePeopleAgainstRacism briefly trended on Twitter, with thousands of social media users expressing opposition to Trump's remarks.
Among them was David Simon, a journalist and writer of The Wire, a critically-acclaimed American crime drama series set in Baltimore.
The Baltimore Sun newspaper also published a scathing editorial, calling Mr Trump "the most dishonest man to ever occupy the Oval Office".
"Better to have some vermin living in your neighbourhood than to be one," it added.