Americans held in Rome over killing of policeman
http://www.bbc.co.uk/news/world-europe-49133815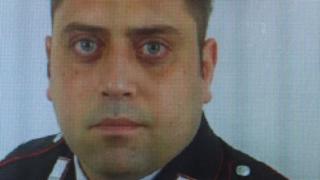 A huge manhunt is under way for the killers of an Italian policeman stabbed to death in the centre of Rome while trying to make an arrest.
Two men believed to be North Africans are being sought after Mario Cerciello Rega, 35, died confronting suspected thieves, Italian media report.
The thieves are said to have stolen a bag, then arranged to meet and sell it back to the owner for €100 (£90; $111).
Two Americans have been arrested in connection with the theft of the bag.
Interior Minister Matteo Salvini has offered his condolences on Twitter, describing the dead officer as "a hero, a boy with all his life ahead".
Earlier, he called for whoever killed the policeman to face "forced labour in prison for as long as he lives".
Hours after the death became known, Italian military police (Carabinieri) stopped their cars outside the force's general headquarters and sounded their sirens in tribute to the officer.
What do we know about what happened?
On Thursday evening, an Italian man, 40, was sitting in a city square, Piazza Mastai, when his bag containing €100 and a mobile phone was stolen, Il Corriere della Sera reports.
Two men were apparently later caught on CCTV running away with the bag but others may also have been involved.
After the owner called his own phone, the gang offered to sell the bag back to him in another part of the city, the Prati district. The owner then alerted the police.
The suspected thieves were waiting in the early hours of Friday for the owner to turn up when, instead, Vice-Brigadier Rega and a colleague appeared.
One of the suspects produced a knife and stabbed the policeman eight times, including once in the heart, before they fled, Ansa news agency reports.
The police officer was taken to hospital but died of his injuries.
Four people are being questioned at a Carabiniere barracks in connection with the case, Ansa adds.
The two Americans being investigated over the theft of the bag were picked up at a hotel by police on Friday morning.
You may also be interested in:
Who was the victim?
Vice-Brigadier Rega had been married only 43 days and had returned from his honeymoon just this week.
"Mario was a lovely lad," Sandro Ottaviani, commander of Rome's Piazza Farnese Carabinieri station, was quoted as saying by Ansa.
"He never held back at work and he was a figurehead for the whole district. He always helped everyone. He did voluntary work, accompanying sick people to Lourdes and Loreto. Every Tuesday he went to Termini train station to feed the needy."
His funeral will be held on Monday, in the same church in which he was married.
The killing shocked Italy and prompted tributes from across the country.
On social media pages, the Carabinieri paid tribute to Mario Cerciello Rega's "unconditional and brave dedication", and said his loss would be felt by his 110,000 fellow Carabinieri officers.
Flowers have also been left at the Carabinieri station in Rome's Piazza Fornese.