American and Australian tourists killed in Canada
http://www.bbc.co.uk/news/world-us-canada-49076463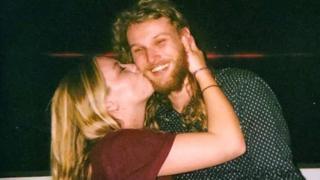 Canadian police are investigating the murder of two young travellers who were shot in northern British Columbia.
The Royal Canadian Mounted Police (RCMP) says American Chynna Deese, 24, and Australian Lucas Fowler, 23, were found dead last week.
Fowler's father is a senior member of the New South Wales Police Force and has come to Canada with two colleagues.
Stephen Fowler described the murder of his son and his son's girlfriend as "a love story that ended tragically".
"I may be an experienced police officer but today I am standing here as the father of a murder victim," he told media at an RCMP news conference.
Two police officers from Australia have travelled to act as family liaisons during the RCMP investigation. Mr Fowler says they will not get involved in the case directly.
"I'm an experienced police officer and I know how these investigations can go," he said. "But I can tell you I am more than confident in all of the officers that are working on this case."
Family of both victims say they had planned on travelling across Canada.
"They were bright and beautiful souls. We are all still in shock and heartbroken," Kennedy Deese, Chynna's sister, wrote on Facebook.
Their 1986 blue Chevrolet minivan was found near the bodies on the side of the Alaska Highway, near Laird Hot Springs, between Sunday and Monday. The springs are a popular tourist destination.
Eyewitnesses told media they saw the couple on the side of the road when their van broke down, but that they seemed to have it under control.
Police have a composite sketch of a man who was seen speaking to Lucas along the highway and are asking for the public's assistance, they believe he was driving an older Jeep Cherokee with a racing stripe on the top of the roof.
The young couple met at a hostel in Croatia in 2017, and had travelled the world together since then.
"Our son Lucas was having the time of his life travelling the world. He met a beautiful young lady and they teamed up, they were a great pair and they fell in love," Mr Fowler said.
Second mystery
Police are considering the possibility their murder may be connected to the disappearance of two teenagers last Friday.
Kam McLeod, 19, and Bryer Schmegelsky, 18, are considered missing after their burnt-out camper van was found along the side of the road near Dease Lake on Friday, 500km (310 miles) away from where Fowler and Deese were found.
A third body was found burned not far from McLeod and Schmegelsky's van. It has not been identified but police do not believe it belongs to the missing young men.
Police are asking anyone with any information about either case is asked to call Crimestoppers at 1-800-222-8477.