Trump steps up attack on US-hating congresswomen
http://www.bbc.co.uk/news/world-us-canada-48997008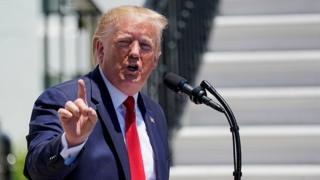 US President Donald Trump has redoubled his attack on four Democratic congresswomen, accusing them of "hating our country".
"If you are not happy, if you are complaining all the time, you can leave," he told a heated news conference outside the White House.
On Sunday Mr Trump called on the women, who are from ethnically diverse backgrounds, to "go back".
He was widely accused of racism and xenophobia, which he denied.
"These are people that in my opinion hate our country," President Trump told reporters.
"As far as I'm concerned if you hate our country, if you're not happy here, you can leave. You can leave right now. I don't know who's going to miss 'em," he said, to applause from some in the audience.
Asked by a reporter if he was concerned that his tweets had been seen by some as racist, Mr Trump said he was not.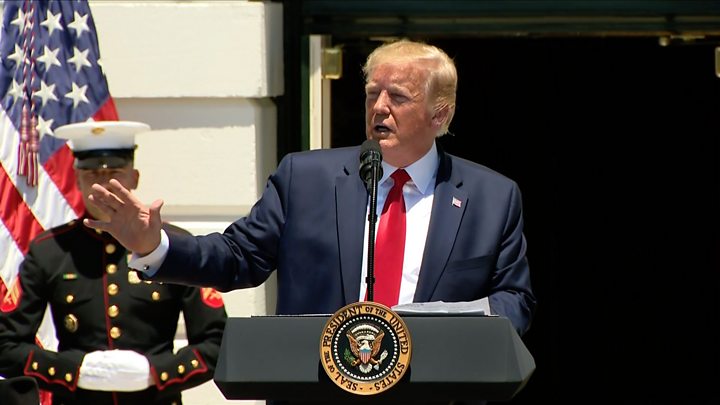 "It doesn't concern me because many people agree with me," he added.
Mr Trump sparked a furore in Sunday's series of tweets in which he said the women "originally came from countries whose governments are a complete and total catastrophe".
He did not explicitly name the women, but the context made a clear link.
The four – US-born Alexandria Ocasio-Cortez, Rashida Tlaib and Ayanna Pressley, and Ilhan Omar, who came to the US as a refugee aged 12 – all called the president racist and were backed by members of the Democratic Party.
Ms Ocasio-Cortez was born in the Bronx in New York, about 12 miles away from the Queens hospital where Mr Trump was born.
On Monday, a few Republicans also spoke out against Mr Trump's language.
Senator Susan Collins said in a statement the tweets were "way over the line" and should be removed. Congressman Will Hurd described the comments as "racist and xenophobic".
Former Ohio Governor John Kasich said Mr Trump's remarks were "deplorable and beneath the dignity of the office" and called on Republicans to "speak out against these kinds of comments that do nothing more than divide us".
Trump keeps pushing racial boundaries
Analysis by Gary O'Donoghue, BBC Washington Correspondent
Telling people of colour to go back to where they came from cannot be regarded as anything other than a blatant evocation of a well-worn trope of racist language and sentiment that's as old as the hills.
But usually politicians who want to play the race card reach for the "dog whistle" – a political nudge and a wink that tells their supporters that they share their views that cannot easily be voiced in a liberal democracy without alienating people whose support they will need.
President Trump, however, has pushed the boundaries on racially charged language ever since he became a candidate.
Remember how Mexicans were Rapists and Drug dealers, how there were "good people" on both sides of the argument when white supremacists marched in Charlottesville, and how the President didn't see why America should allow more people in from "shithole" countries in Africa.
So what is his strategy? Keeping his core support fired up is unquestionably part of it. And exploiting divisions within Democratic ranks which have had racial overtones in recent days is another reason for his actions.
But in many ways, we should not be surprised by this President ratcheting up the political heat in this particular way.
After all, it's a short intellectual step from the economic nationalism encapsulated in the idea of America First, to a more thorough-going nationalism that sees a threat from the enemy within.
Follow Gary @BBCBlindGazza on Twitter for more analysis
Despite criticism, President Trump launched another Twitter tirade on Monday morning, calling on the women themselves to apologise – to him and "the people of Israel".
Mr Trump has also accused Speaker of the House of Representatives Nancy Pelosi of racism, after she said the president's campaign slogan, Make America Great Again, was "about making America white again".
"That's a very racist statement," Mr Trump said. "I'm surprised she'd say that."
Also on Monday, Mr Trump's attorney general William Barr delivered remarks at a Department of Justice forum on battling anti-Semitism, where he condemned "identity politics" and said he was "deeply concerned about the rise in hate crimes and political violence" in the last decade.
What's the background?
In his initial Twitter thread, Mr Trump did not specifically mention a link to recent news events, but immigration at the southern border was a dominant topic in US news at the weekend.
On Friday, Ms Ocasio-Cortez, Ms Tlaib and Ms Pressley testified to a House committee about conditions in a migrant detention centre they had visited. They expressed horror about alleged mistreatment happening "under American flags".
The president replied by tweeting that children's detention centres had had "great reviews" and the adult male areas were "loaded up with a big percentage of criminals".
This is not the first time Mr Trump has been accused of racism.
For years, he made false claims that former President Barack Obama was not born in the US – propagating the racist "birther" conspiracy.
He has also made numerous slurs against Central American migrants, calling them criminals and rapists. In 2018, he faced criticism from both Democrats and Republicans after reports said that during a meeting at the White House he called African nations "shitholes".
When white supremacists marched in Charlottesville, Virginia, resulting in the death of 32-year-old counter protester Heather Heyer, the president said there were "good people on both sides".
Mr Trump and his father Fred Trump were sued by the Department of Justice in 1973 for discrimination against African Americans in their renting practices. They settled the case without admitting guilt in 1975 but were accused again by the justice department in 1978 of an "underlying pattern of discrimination" against black tenants.