Labour would back Remain in referendum on Tory Brexit
http://www.bbc.co.uk/news/uk-politics-48919695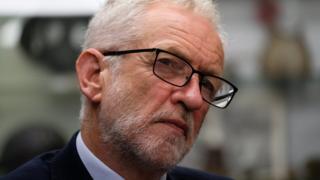 Jeremy Corbyn has challenged the next Tory leader to hold another referendum before taking Britain out of the EU, saying Labour will campaign for Remain.
Mr Corbyn says the party will take this position to stop "no deal or a damaging Tory Brexit".
But he does not say what he would do if he won a general election and was placed in charge of the Brexit process.
Some senior members of his team want him to take a pro-Remain stance in any circumstances.
In a letter to members, Mr Corbyn said: "Whoever becomes the new prime minister should have the confidence to put their deal, or no deal, back to the people in a public vote.
"In those circumstances, I want to make it clear that Labour would campaign for Remain against either no deal or a Tory deal that does not protect the economy and jobs."
The announcement follows a shadow cabinet meeting on Tuesday morning, and a meeting with trade union leaders on Monday.
Labour's Hilary Benn – who chairs the Brexit select committee – said it was a "big step forward" and called it "significant".
He added: "We can now see there is nothing that can be better negotiated that is better for jobs, that is better than the deal we currently have."
Union call
The bosses of Labour's five-biggest affiliated unions called for the move the party has made – but also for it to hold a "confirmatory vote" on any new deal it negotiated if Labour won a general election.
The BBC's political correspondent Iain Watson said there was disagreement about the second part of the unions' stance in the shadow cabinet meeting, with deputy leader Tom Watson wanting a "straight Remain stance", meaning a decision on it was "kicked down the road".
Mr Watson is among other leading figures who have called for an unambiguously pro-Remain stance amid criticism that confusion over Labour's message contributed to its poor performance in the recent European Parliament elections.
But MPs from Leave areas of the UK have warned it could damage the party's next election performance.
In his letter, Mr Corbyn said Labour continued to believe the "compromise plan" set out for Brexit during cross-party talks with the government earlier this year was still a "sensible alternative that could bring the country together".
This included a customs union, a strong single market relationship and the protection of environmental regulations and rights at work.
He renewed calls for a general election in the letter, saying Labour had a "crucial, historic duty to safeguard jobs, rights and living standards, but no Brexit outcome alone can do that."
But Mr Corbyn did not say if Labour would pursue a new deal or a further referendum if the party won a general election – or stick to its manifesto commitment to accept the 2016 result.
Shadow Treasury minister Clive Lewis said if a snap election was called, Labour would try to renegotiate the Brexit deal agreed by Theresa May, despite saying it "very much looks like" Labour is now the party of Remain.
He told the BBC's Politics Live: "If we win that general election, we will come into power, and if we can renegotiate that deal – a Labour deal – we will because that's what people asked for."
But asked if he would campaign for his own party's deal in a referendum, he said: "No, I wouldn't."
Halfway to Remain
Analysis by Norman Smith, BBC assistant political editor
This move is another shift by Labour to become an openly Remain-backing party in this Parliament, ahead of a general election.
But after that, we still don't know.
Jeremy Corbyn doesn't say what would happen if, for example, Boris Johnson becomes leader and were to hold a new general election.
We have clarity ahead of a general election, but no real clarity after a general election.
However, this is, as expected, another definite step by Labour toward becoming a Remain party.
They are halfway there – even if they are still slightly at sixes and sevens.
In a document seen by the BBC, Unite, Unison, the GMB, CWU and Usdaw appeared to have moved towards the position saying that "Remain" should be an option on the ballot paper, and Labour should campaign for it.
In the event of a snap election and a Labour victory, they would expect the new government to negotiate a deal to leave the EU – a position favoured by the Unite union.
However, the deal should be put to a confirmatory vote – a position favoured by Unison and the GMB – and in this scenario "Remain" should also be an option on the ballot paper.
Some Remain-backing members of the party have called for guarantees that if this were to happen, they would not be prevented from campaigning against a Labour deal and for Remain.
But others believe Labour should ditch the idea of trying to get any Brexit deal.
'Deep betrayal'
Former Labour MP Chris Leslie – who left the party to found Remain-backing Change UK – said Mr Corbyn's stance had "confirmed that if you vote Labour, you'll get Brexit".
He said the position "wasn't good enough", adding: "Brexit – whether a Labour Brexit or a Conservative Brexit – will cost people's jobs, put businesses in jeopardy, and diminish Britain in the eyes of our neighbours.
"Corbyn's refusal to be honest about that fact is a deep betrayal of the people Labour used to represent."
The Liberal Democrat's Brexit spokesperson, Tom Brake, said Labour "are still a party of Brexit".
He added: "Jeremy Corbyn can pretend all he likes that the Labour Party are finally moving towards backing the Liberal Democrat policy of a People's Vote, but it is clear it is still his intention to negotiate a damaging Brexit deal if he gets the keys to No 10."
But Miriam Mirwitch, chair of Young Labour, welcomed the move, adding: "The leadership's change in position is incredibly important in the fight to prevent the next prime minister imposing their will on the country without a mandate.
"This vital shift shows that Labour is a party centred around democracy that has listened to what it's members have wanted for some time: a People's Vote in which Labour campaigns to Remain."
Labour's position on Brexit
June 2017 – Labour's general election manifesto accepts referendum result
28 September 2018 – Labour agrees if a general election cannot be achieved it "must support all options… including campaigning for a public vote"
November 2018 – Shadow chancellor John McDonnell says Labour will "inevitably" back a second referendum if unable to secure general election
16 January 2019 – 71 Labour MPs say they support a public vote
6 February 2019 – Mr Corbyn writes a letter to Mrs May seeking five changes to her Brexit policy with no mention of a "People's Vote"
25 February 2019 – Labour says it will back a public vote if its proposed Brexit deal is rejected
14 March 2019 – Labour orders its MPs to abstain on an amendment calling for a second referendum
27 March 2019 – The party instructs its MPs to support Margaret Beckett's amendment which calls for a confirmatory public vote on any Brexit deal
30 April 2019 – NEC agrees that the European election manifesto will commit to a further referendum under certain circumstances
9 July 2019 – Labour calls on the next PM to hold a referendum and pledges to campaign for Remain against "no deal or a damaging Tory Brexit"