Anti-Putin tirade on Georgian TV angers Russia
http://www.bbc.co.uk/news/world-europe-48907688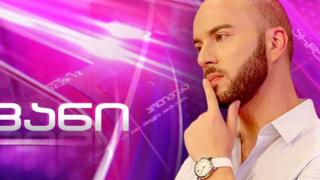 The Kremlin has condemned a Georgian TV presenter's crude tirade against Russian President Vladimir Putin.
Mr Putin's spokesman Dmitry Peskov said "we consider these insults totally unacceptable". Rustavi-2 is Georgia's main commercial TV channel.
Presenter Giorgi Gabunia used offensive language in a Russian-language message to Mr Putin on Sunday. Rustavi-2 has apologised for his outburst.
Separately, Russia has halted direct flights to Georgia amid worsening ties.
Gabunia's attack on President Putin comes amid a new deterioration of relations between Moscow and Tbilisi.
After crude abuse directed at Mr Putin, Gabunia added sarcastically: "Ah, your mummy's dead, what a pity." He also called Russians slaves and told them to get out of Georgia.
Georgia's Prime Minister, Mamuka Bakhtadze, deplored Gabunia's outburst, saying "this is a war by provocateurs against their country, a dirty and disgusting game with the security of the state and citizens".
Last month, protesters in Tbilisi tried to storm parliament, furious that a Russian MP had given a speech from the speaker's chair.
The MP, Sergei Gavrilov, left Georgia in a hurry, before clashes broke out in which 240 people were hurt.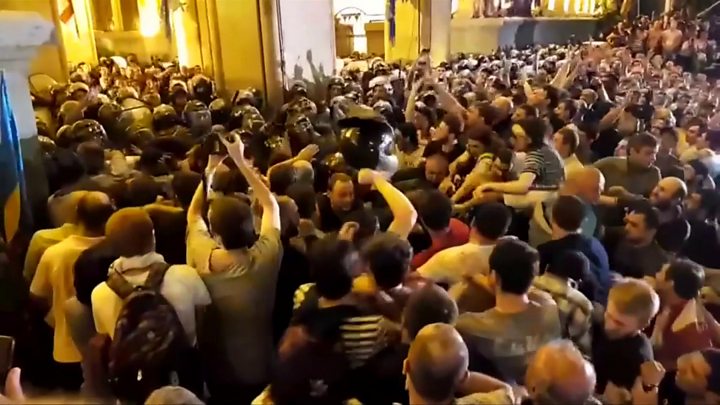 President Putin responded by ordering a temporary ban on flights to Georgia from 8 July, restrictions on Georgian wine imports, and advising Russian tourists to come home.
Many Georgians are angry that Russia is maintaining a heavy military presence in two regions which broke away from Georgia in a short war in 2008: South Ossetia and Abkhazia.
Condemning Gabunia in Moscow on Monday, Mr Peskov told reporters: "We and you have seen a sharpening of Russophobic attacks in recent days.
"All this is simply a consequence of the [Georgian] state's reluctance or inability to restrain extremist youths."
In a statement on its website, Rustavi-2 said Gabunia violated "the high standards established by our channel".