Widdecombes slavery remarks disgusting
http://www.bbc.co.uk/news/uk-politics-48869520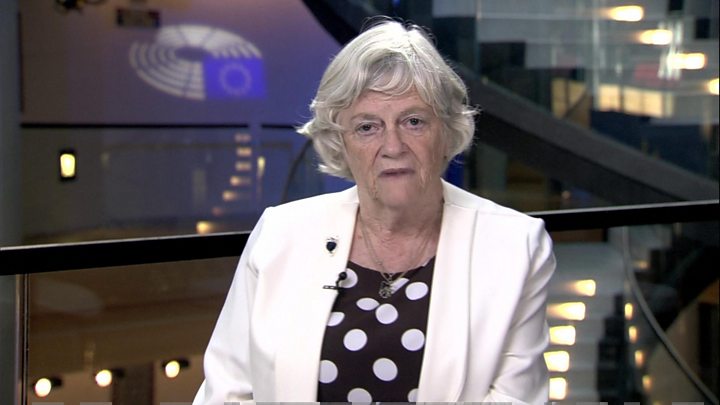 Brexit Party MEP Ann Widdecombe has been criticised for comparing the UK leaving the EU to "slaves" rising up "against their owners".
She made the remarks during her maiden speech in the European Parliament on Thursday, which critics branded "disgusting" and "offensive".
Labour MP David Lammy described her words as "ahistorical".
But Ms Widdecombe told the BBC's Newsnight people had interpreted her speech in a "melodramatic fashion".
The former Conservative MP and shadow home secretary was one of 29 Brexit Party candidates who won European Parliament seats in May.
She began her first speech to fellow MEPs by attacking the EU for the way it appoints its leaders. This followed heads of member states nominating five candidates for the top jobs in Brussels – including the presidents of the European Council and the European Commission – earlier this week.
German Defence Minister Ursula von der Leyen was nominated to replace the current European Commission President Jean-Claude Juncker – becoming the first woman to take the role – and Belgian liberal Prime Minister Charles Michel was nominated to replace European Council President Donald Tusk.
Critics of the selection process say the European Parliament's own contest for the main job – the "Spitzenkandidaten" (lead candidate) process – was ignored, and that four of the main jobs went to western Europeans, with no nominees from eastern Europe.
Most of the roles must now be ratified by the European Parliament.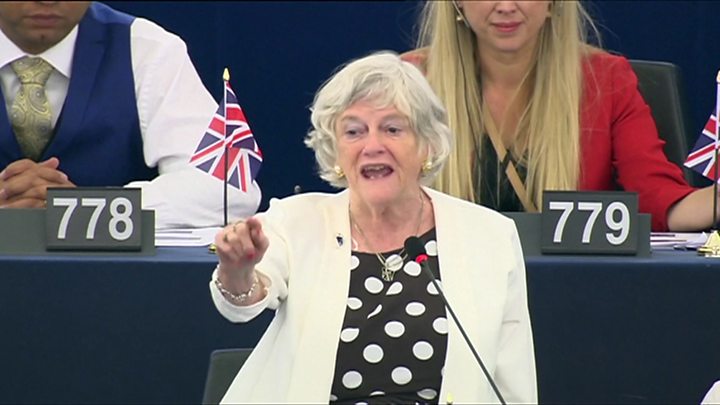 Ms Widdecombe, one of six MEPs representing the South West of England, said the process of choosing the leadership of the EU had convinced her that "the best thing for Britain is to leave here as soon as possible",
She went on to say: "There is a pattern consistent throughout history of oppressed people turning on the oppressors – slaves against their owners, the peasantry against the feudal barons, colonies… against their empires, and that is why Britain is leaving.
"And it doesn't matter which language you use – we are going and we are glad to be going."
She added: "Nous allons. Wir gehen. We're off!"
In response, EU Brexit co-ordinator Guy Verhofstadt said Ms Widdecombe was giving her party leader, Nigel Farage, "stiff competition as chief clown".
Meanwhile, Labour MP Dr Rosena Allin-Khan tweeted: "It is disgusting that Ann Widdecombe would reference slavery and colonisation to describe our relationship with the EU.
"Her and Farage are bankrolled by elites – she's part of the establishment which has created such a divide in this country."
Liberal Democrat MEP Martin Horwood called for Ms Widdecombe to withdraw her comments and apologise.
"Ann Widdecombe has not only embarrassed herself, but she has embarrassed the nation she represents," he said.
But Ms Widdecombe defended her speech, telling Newsnight: "If people want to interpret what I've said in a particular way, that is not my responsibility.
"I said we had been oppressed, I stand by that. I used three examples, not just slavery… and I stand by what I said.
"I definitely want the UK to be free of the EU shackles, now complain about that".
Leave.EU founder Arron Banks tweeted his support for Ms Widdecombe.
A Brexit Party spokesman added: "Those who have raised this hue and cry seem to desire nothing more than a cleansing of our language of historical perspective and even metaphor.
"Ms Widdecombe was right to talk about the great sweep of history, and the simple fact that those who are oppressed will always strive for freedom."
"Would they also ban Rule Britannia? The Last night of the Proms?" he added.