Biden fundraising eclipsed by junior 2020 Democrat
http://www.bbc.co.uk/news/world-us-canada-48849039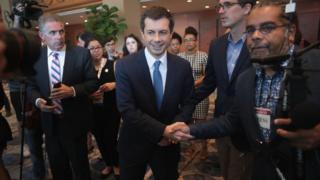 Democratic presidential frontrunner Joe Biden has seen his early 2020 campaign fundraising eclipsed by a junior Democratic contender.
Mr Biden raised $21.5m (£17m) since entering the race on 25 April, less than the $24.8m raised by the South Bend, Indiana mayor, Pete Buttigieg.
A Reuters/Ipsos poll showed a dip in support among black voters for President Obama's vice-president.
At the debate, Democrats condemned Mr Biden's handling of racial issues.
He was sharply criticised by California senator Kamala Harris for having reminisced about his working relationship with two Democratic senators who favoured racial segregation – a policy that he disagrees with.
Only a few of the 20 Democratic contenders aiming to challenge President Donald Trump have disclosed their fundraising figures. Vermont Senator Bernie Sanders raised $18m the same quarter, which covers April and June.
Mr Biden's campaign said it had received 436,000 donations from 256,000 donors. The average donation was $49 and 97% of donations were under $200.
In a statement to supporters, Mr Biden's campaign noted that he launched his campaign three weeks after the quarter began, making his donations the highest per-day of the election so far.
Biden's bumpy road
There's a reason Pete Buttigieg was the first to announce his second-quarter fundraising haul. He had the most to brag about.
There was some question as to whether Joe Biden might beat the South Bend mayor's $24.8m total, even though he had three fewer weeks to do it. It turns out he came up a few million short.
The former vice-president's $21.5m mark is perfectly adequate, though. It will allow him to build out his campaign infrastructure and, assuming he doesn't recklessly burn through cash, compete on an equal footing in the early primary states.
Something to remember, however, is that these numbers are backward-looking. They're tangible evidence of what has transpired, not a prediction of what is to come. And the road ahead for Mr Biden – after a shaky debate performance and a bludgeoning in the media ever since – looks bumpy.
Candidate preference polls are all over the place at the moment, but they all indicate Mr Biden's support is slipping. If that decline continues, his fund-raising prowess could erode as well.
There's plenty of time for him to recover, of course. But a recovery is going to be needed. That, by itself, is noteworthy.
The Reuters/Ipsos poll, which was conducted over the weekend after the Democratic debates, showed Mr Biden's support among black Americans cut in half.
Two out of 10 black voters identifying as Democrat or independent said they supported Mr Biden – down from four out of 10 in June. Overall support for Mr Biden stands at 22%, according to the poll, down eight points since early last month.