Hunt would back no-deal Brexit with heavy heart
http://www.bbc.co.uk/news/uk-politics-48817166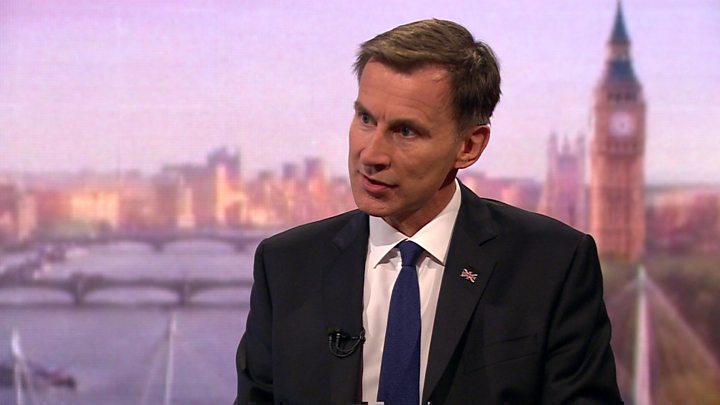 Jeremy Hunt has said he would back a no-deal Brexit with a "heavy heart" but would, unlike Tory rival Boris Johnson, not commit to a deadline for leaving.
He told the BBC leaving the EU was a "democratic promise" that must be kept, whatever the economic repercussions.
But he said the quickest way to leave was via a new deal and guaranteeing a specific exit date was a "fake debate".
The leadership candidates have also defended their plans to spend billions on education, defence and transport.
Mr Johnson, who is the frontrunner in the race to be the new Conservative leader, and the UK's next prime minister, told Sky News he would be prepared to borrow more to spend on vital national infrastructure.
He told the Sophy Ridge programme there was up to £25bn "available" in the short term which "we intend to use" on public services rather than reducing the deficit.
Mr Hunt told the BBC's Andrew Marr Show he would also use the "war chest" built up by Chancellor Philip Hammond, generated by the improved state of the public finances.
But he conceded some of his spending priorities would "have to wait" if the UK left without a deal – as the money would be needed to support businesses affected.
'Drift and dither'
The 160,000 Conservative Party members will begin voting next week and Theresa May's successor is expected to be announced on 23 July.
The issue of when the UK leaves the EU remains a key dividing line in the contest.
Asked to guarantee that Brexit would happen by the end of 2019, Mr Hunt insisted the UK would leave sooner under his leadership as he was best placed to get an improved deal that could break the impasse in Parliament.
While a no-deal Brexit must be a last-resort, he said the UK would make a success of it and no-one should doubt his willingness to go down that route if necessary.
"The difference between me and Boris is not as big as people are saying," he said. "At the beginning of October, if there is no prospect of a deal that can get through parliament, then I will leave at the end of October because that is our democratic promise to the British people."
Mr Johnson said he would take "personal responsibility" for ensuring the UK leaves by 31 October, with or without a deal, as the current "drift and dither" could not continue.
Asked whether he was prepared to suspend Parliament to force through a no-deal exit, he said he did not "like the idea" but MPs must accept "responsibility" given the gravity of the situation.
Tax and spending plans
The candidates continue to be questioned on the affordability of their tax and spending plans, having both pledged to reduce the National Insurance burden on the lowest earners while also promising more money for schools, social care and transport.
Mr Hunt claimed the Institute for Fiscal Studies think-tank had got its figures wrong after it said his plans would "exacerbate" the pressures on the public finances.
Earlier in the Tory leadership race, Mr Hammond wrote to all the contenders to say the next prime minister would potentially have an extra £15bn in "available borrowing capacity" to spend in 2020-2021, rising to £25bn in 2023-24, while keeping within the existing fiscal rules.
But he said these sums were dependent on avoiding a no-deal Brexit and warned them against endangering the Tories' "hard-won reputation for fiscal and economic competence" by abandoning debt and deficit targets.
Mr Hunt said he agreed with his colleague and greater prudence would be required if the UK ended up leaving without a deal.
"If we had a no-deal Brexit, some of these spending commitments would have to wait because you would need to divert money to support businesses up and down the country.
"They would take longer because you would not have that money at your fingertips."
'Living within means'
But the foreign secretary said he was still committed to cutting corporation tax to 12.5% whatever happened.
"It is not the tax cut people are talking about on the doorstep but it is the one which would fire up the economy in a way that would be helpful in a no-deal context."
Mr Johnson said he would use the existing financial "headroom" in the Treasury's budget to increase investment in policing and schools, with more support for special needs education as well as an increase in per pupil funding.
And he also indicated he would be prepared, in the long-run, to increase borrowing levels to pay for his spending commitments.
"I'm prepared to borrow to finance certain great objectives but overall we will keep fiscal responsibility and keep going with the general trajectory of ensuring that this country pays its way and lives within its means," Mr Johnson told Sophy Ridge.
"But you can do that with some sensible tax cuts that will stimulate growth, stimulate enterprise, get more revenue in."