EU agrees deal with South American trade bloc
http://www.bbc.co.uk/news/world-europe-48807161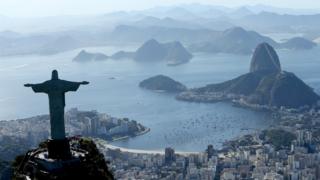 The EU and South American economic bloc Mercosur have clinched a trade deal following 20 years of negotiations.
EU Commission President Jean-Claude Juncker said it was the biggest deal the EU had ever concluded and, at a time of trade tensions, showed that "we stand for rules-based trade".
Brazil's President Jair Bolsonaro said it was "historic" and "one of the most important trade deals of all time".
Mercosur consists of Argentina, Brazil, Uruguay and Paraguay.
The deal would be good for consumers and the environment, Mr Juncker added.
Argentina's Secretary of International Relations Horacio Reyser said the deal would create a market for goods and services covering 800 million consumers.
It would bring benefits for his country, he said, including boosting GDP, creating jobs and attracting investment.
Mr Reyser tweeted a video of the moment the deal was confirmed.
In a statement, Brazil said the deal included eliminating tariffs on products such as orange juice, instant coffee and fruit, Reuters reported.
Meanwhile producers of other products such as meat, sugar and ethanol would have greater access to the EU market through quotas, the statement said.
Last year the EU signed a free trade deal with Japan, covering nearly a third of the world's GDP and 600 million people.