Cassius band member dies in accidental fall
http://www.bbc.co.uk/news/world-europe-48701514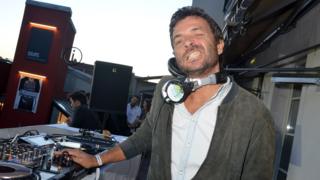 Philippe Cerboneschi (also known as "Zdar"), one half of French dance duo Cassius, died in Paris on Wednesday, his agent has said.
"He made an accidental fall, through the window of a high floor of a Parisian building," said Sebastien Farran, without giving further details.
Cerboneschi formed Cassius with Hubert Blanc-Francard (aka Boom Bass) in 1996.
They produced for bands such as Phoenix, Beastie Boys, Franz Ferdinand and French hip hop star MC Solaar.
The band's first album in three years, Dreems, is due to be released on Friday.
Cerboneschi was in his early 50s.
Tributes from the music world started pouring in on Thursday morning as news of his death filtered through, including from Alex Kapranos of Franz Ferdinand, DJ Calvin Harris and Rostam Batmanglij, formerly of the band Vampire Weekend.
Fusing disco and acid house, Cassius emerged as part of a new wave of French dance music in the late 90s, alongside acts like Daft Punk and Air.
Their debut single, Cassius 1999, which featured a chopped-up sample of Donna Summer's If It Hurts Just a Little, reached number seven in the UK charts.
Although they never matched that success again, the duo remained in demand as producers and remixers, working with acts like Phoenix and MC Solaar, while their 2006 album Ibifornia, featured artists like Pharrell Williams, Cat Power and Beastie Boy Mike D.
Prior to Cassius, Zdar also released an album with Etienne de Crécy under the moniker Motorbass.
Currently unavailable on streaming services, the record, titled Pansoul, was listed as one of the "100 lost albums you need to know" by NME magazine.
A retrospective review by Uncut magazine described Pansoul as "the starting point for the French dance movement", while Spin called it "the most important album in French house".
Cerboneschi, whose parents ran a hotel in Aix-les-Bains, started out as a singer in a punk band and a speed metal drummer.
He quit his job as a waiter, he told Le Monde, after seeing a picture of UK band Eurythmics recording in a Paris studio and deciding he wanted "to find this magic" (interview in French).
He later got a job at a music studio and, in the 1980s, rubbed shoulders with French stars Serge Gainsbourg, Etienne Daho and Vanessa Paradis.
He worked with high-profile artistic director Dominique Blanc-Francard, who put him in touch with his son Hubert.
Cerboneschi was awarded a 2010 Grammy Award as a mixer and producer for French indie pop band Phoenix's fourth best-selling album.