Sex cult leader found guilty in New York
http://www.bbc.co.uk/news/world-us-canada-48699099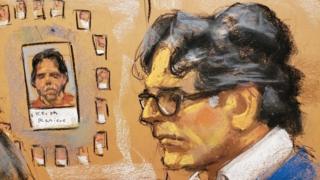 Keith Raniere, a self-help guru accused of leading a sex cult that enslaved women, has been found guilty of all charges against him.
Raniere, 58, was convicted by a jury after a six-week trial in Brooklyn, New York.
He allegedly oversaw a "slave and master" system in his group, called Nxivm.
He was convicted of all counts against him, including racketeering, sex trafficking and child pornography.
Mr Raniere, who pleaded not guilty to all charges, could face life in prison.
During the trial, the court heard how female recruits in the group were branded with his initials and coerced into having sex with Raniere.
Raniere maintained that Nxivm (pronounced nexium) was a self-improvement organisation, but investigators said it was a sex-trafficking operation disguised as a mentoring group.
Recruits were told it was an all-female group and were asked to hand over compromising materials that were later used to blackmail them, prosecutors said.
Raniere was arrested by the FBI in Mexico last year. His defence team said the alleged sexual relationships were consensual.
When the verdict was read outside court, former members of Nxivm gave the prosecution team a round of applause.
Five female members of Nxivm – including a liquor heiress and an actress – have pleaded guilty to a series of charges for their involvement.
What did we learn in court?
According to Nxivm's tagline, Raniere and his organisation were "working to build a better world".
But witnesses called to testify at his trial painted a starkly different picture of the man.
Raniere, the court heard, ran a secret society within Nxivm called DOS.
As the "grandmaster" of DOS, he was a "predator" who exploited and blackmailed women, including a 15-year-old girl, prosecutors alleged.
Raniere forced his "slaves" to give him nude photos of themselves and other compromising materials, telling them they would be made public if they disobeyed him, the court heard.
Every August, Nxivm members – called "Nixians" – would dole out $2,000 (£1,575) or more to gather in Silver Bay, New York to celebrate Raniere's birthday week, according to court documents.
A former member testified that the week included "tribute ceremonies" to Raniere, who was referred to as "The Vanguard" by his followers.
Another former member of the alleged sex cult, identified by prosecutors as Daniela, testified she was "groomed" for weeks before she turned 18 for Raniere to take her virginity.
The same women was allegedly confined to a bedroom for two years – all because she gained weight and asked to see a man other than Raniere.
In her closing arguments, prosecutor Moira Penza said Raniere was a "crime boss with no limits" who "tapped into a never-ending flow of women and money".
In his defence, his lawyer Marc Agnifilo told the court that no women were ever forced to do anything against their will.
"You may find him repulsive, disgusting and offensive. We don't convict people in this country for being repulsive or offensive," Agnifilo said. "Unpopular ideas aren't criminal. Disgusting ideas aren't criminal."
A jury of eight men and four women dismissed his arguments, convicting Raniere for the catalogue of abuse, forced starvation and sexual exploitation he subjected his victims to.
How did Nxivm describe itself?
On its website Nxivm describes itself as a "community guided by humanitarian principles that seek to empower people and answer important questions about what it means to be human".
Based in Albany, New York, the group was founded as Executive Success Programs in 1998. Billed as a personal development company, it claims to have worked with more than 16,000 people.
Members of the group are reported to include wealthy socialites and Hollywood actresses, including Smallville star Allison Mack.
According to the group's website, it has suspended enrolment and events because of the "extraordinary circumstances facing the company at this time".