Accused Russian reporter is freed after outcry
http://www.bbc.co.uk/news/world-europe-48600233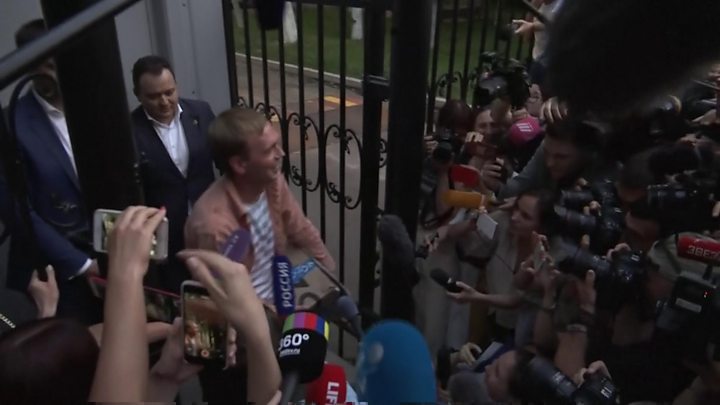 A Russian journalist has been freed after drug-dealing charges against him were dropped following a public outcry.
Russian newspapers had rallied round freelancer Ivan Golunov in a rare public show of support.
Mr Golunov cried as he was freed from a police station on Tuesday and vowed to continue his investigative journalism.
Interior Minister Vladimir Kolokoltsev admitted his guilt had "not been proven" and said an internal inquiry had been launched.
The decision came after "forensic, biological, fingerprinting and genetic tests", the minister added.
Mr Kolokoltsev said he would ask Russian President Vladimir Putin to dismiss two high-ranking officials over the case: the head of the Interior Affairs Directorate of Moscow's Western Administrative District, Gen Puchkov, and the head of the Drugs Control Directorate, General Devyatkin. 
A file on the case had been sent to criminal investigators, Mr Kolokoltsev said. It would be up to them "check the legality of actions by officers directly involved in the detention of this citizen", he added.
What happened to Ivan Golunov?
Mr Golunov, 36, is a freelance journalist who had been working for the Latvia-based news website Meduza, among others. The news site was established by Russian journalists from Lenta.ru, who formed their own outlet abroad after a takeover by a new pro-Kremlin owner.
Mr Golunov's reporting included coverage of the loan shark business, the earnings of the family of Moscow's deputy mayor, the unusually high cost of public works in the Russian capital, and the alleged censorship of journalists.
He was on his way to meet another journalist in Moscow last week when he was stopped and searched by police officers.
Officers said they had discovered the drug mephedrone in his bag and more drugs and weighing scales in a search of his home. Reports said he was beaten during his arrest.
Mr Golunov's lawyers and press freedom activists said the drugs had been planted in order to silence the investigative journalist. Much of Russia's media is controlled by the state and Russia is ranked 83rd out of 100 countries for press freedom by Freedom House.
Supporters immediately claimed the journalist was innocent and a victim of fabricated drug charges, which activists say are used against opposition figures and human rights activists by the Russian state.
Analysis: A serious embarrassment
By Jonah Fisher in Moscow
This case was becoming a serious embarrassment for the Russian authorities.
At the weekend the police had to retract pictures they'd released of drugs paraphernalia, when it was pointed out that they weren't from inside Ivan Golunov's apartment.
Then today a series of forensic tests failed to establish any link between the journalist and the drugs stash.
It was becoming very hard to argue with Mr Golunov's supporters who said, from the very start, that he'd been set up, targeted because of his hard-hitting investigative reports.
The case was on the front page of newspapers on Monday, and plans were being made for a demonstration in Moscow on Wednesday.
Clearly the decision was taken, almost certainly from the very top, that Mr Golunov's case was not going to quietly go away.
What has the reaction been?
"This is the result of an unprecedented international solidarity campaign," Meduza said.
"We are glad that the government has listened to the people. That's how it should be when injustice occurs."
The European Union also welcomed his release, despite continuing reservations about press freedom in Russia.
Reporters Without Borders tweeted: "We hail the historic mobilisation of the Russian civil society. Now those who tried to set him up must be judged."
"It's just wonderful news," Russian opposition leader Alexei Navalny said on Twitter. "It's an inspiring and motivating example of what simple solidarity with people who are persecuted can achieve."