Labour sees off Brexit Party in by-election
http://www.bbc.co.uk/news/uk-politics-48532869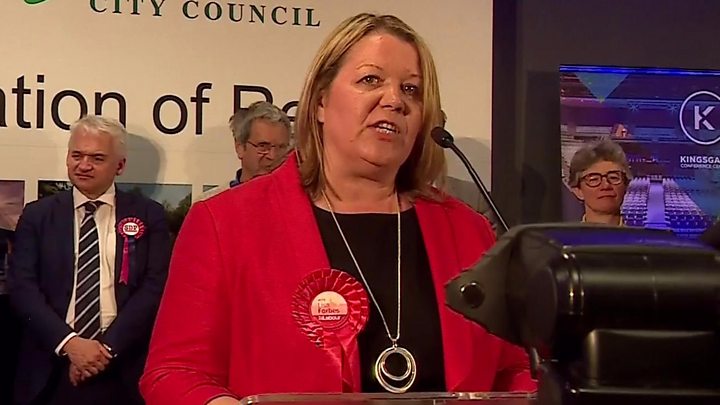 The Labour Party has narrowly seen off a challenge from the Brexit Party to hold on to its Peterborough seat in a by-election.
Union activist Lisa Forbes managed to retain the constituency for Labour, beating Nigel Farage's candidate Mike Greene by 683 votes.
Ms Forbes hailed her "significant" victory and said it showed people had "rejected the politics of division".
The Brexit Party said "no seat is safe" after its performance.
The by-election was called after Fiona Onasanya – who was convicted of lying over a speeding offence – became the first MP to be ousted under recall rules.
Both Labour and the Brexit Party had jostled for position as the bookmakers' favourite up until the result was announced.
The recently formed Eurosceptic group was vying to secure its first MP after gaining 29 seats in the European elections two weeks ago.
Brexit Party 'rejected'
But, as the winner was declared in Peterborough shortly after 02:00 BST, a chant erupted from Ms Forbes' supporters.
In a victory speech, she said her win had "shown that the politics of hope can win regardless of the odds".
"Despite the differing opinions across our city, the fact that the Brexit Party have been rejected here in Peterborough shows that the politics of division will not win," she said.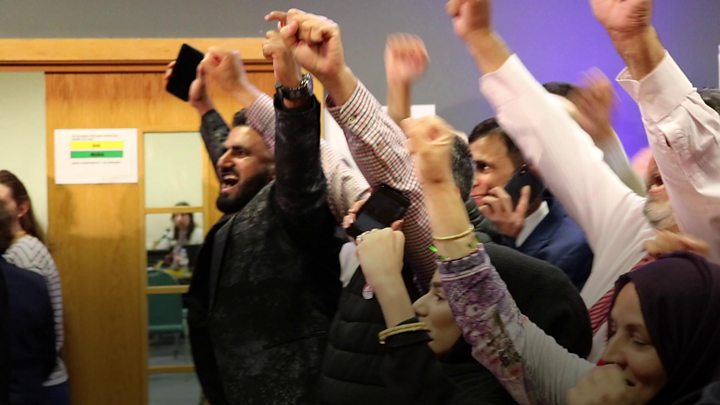 Mr Farage made a brief appearance at the count before the result was announced but left without talking to reporters.
Meanwhile the Conservatives, who have traditionally tussled over the marginal seat with the opposition, fell into third place.
Hard-fought campaign
A total of 15 candidates stood
Turnout was 48.4%, down from 67.5% in the 2017 general election, when Labour beat the Tories by 607 votes
Peterborough, where voters backed Leave by 61% to 39% in the 2016 referendum, had been viewed as fertile ground for the Brexit Party
Its hopes for a win had been boosted after underwhelming results for Labour and the Conservatives in last month's European elections
Labour leader Jeremy Corbyn, former Prime Minister Gordon Brown and Tory big guns Boris Johnson and Jeremy Hunt visited the city during the hard-fought campaign
Theresa May, who will officially resign as Conservative leader later, did not visit the constituency
BBC Look East political correspondent Ben Schofield said the Brexit Party had hoped to campaign – and win – on national issues and discontent with the "Westminster elite".
But, he said, Labour's activists had managed to win by focusing on local issues.
Defeated Brexit Party candidate Mr Greene said his campaign had failed to match Labour's organisation on the ground.
He said: "Naturally it is a blow to lose by so few votes, but you have to remember that the Labour Party have millions of pounds to throw at elections and have been doing this for more than a hundred years.
"I think Peterborough deserves more than tonight's result has given them, and in time they will get it.
"We lost a battle tonight, but we can still win the war."
In a tweet, the Brexit Party hailed its "remarkable result".
Mr Corbyn said it was a "great win" for a "people-powered campaign".
"Peterborough has shown clear support for Labour's programme to end austerity and invest in services and communities, rejecting a decade of Tory cuts and their disastrous handling of Brexit," he said.
"In this key seat, the Conservatives have been pushed to the margins."
The view from the count
By Ben Schofield, political correspondent, BBC Look East
Lisa Forbes told me her top three priorities in office will be education, crime and cleaning up the streets.
This was far from a Brexit Party landslide – and was a much closer contest than many had predicted.
The Conservatives won 7,243 votes, meaning their support didn't collapse as much as Mike Greene and the Brexit Party hoped it would.
Likewise, the Lib Dems' Beki Selleck more than doubled her vote tally compared with 2017.
The Peterborough constituency has long been a Conservative-Labour marginal and, despite boundary changes over the years, is still regarded as one of England's bellwether seats.
Full results:
Brexit Party – Mike Greene – 9,801 votes
Christian People's Alliance – Tom Rogers – 162 votes
Common Good: Remain in the EU – Dick Rodgers – 60 votes
Conservatives – Paul Bristow – 7,243 votes
English Democrats – Stephen Goldspink – 153 votes
Green Party – Joseph Wells 1,035 votes
Independent – Andrew John Moore – 101 votes
Independent – Bobby Smith – 5 votes
Labour – Lisa Forbes – 10,484 votes
Liberal Democrats – Beki Sellick – 4,159 votes
Official Monster Raving Loony Party – Alan "Howling Laud" Hope – 112 votes
Renew – Peter Ward – 45 votes
SDP Fighting for Brexit – Patrick O'Flynn – 135 votes
UK European Union Party – Pierre Kirk – 25 votes
UKIP – John Whitby – 400 votes