Police raid Australias public broadcaster ABC
http://www.bbc.co.uk/news/world-australia-48522729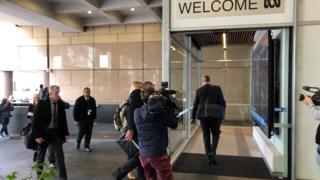 Police have raided the headquarters of the country's public broadcaster, the Australian Broadcasting Corp (ABC).
Police arrived with search warrants naming two journalists and News Director Gaven Morris, ABC said. It has protested over the raid.
The police action is reportedly related to articles about alleged misconduct by Australian forces in Afghanistan.
On Tuesday police searched the home of a News Corp journalist over the alleged leak of classified information.
According to the ABC, the search is about the 2017 investigative series known as The Afghan Files which "revealed allegations of unlawful killings and misconduct by Australian special forces in Afghanistan".
The broadcaster said the series was "based off hundreds of pages of secret Defence documents leaked to the ABC".
ABC journalists have been tweeting about the events since the Australian Federal Police (AFP) arrived in the morning.
According to a police statement, no arrests were planned. The statement said the warrant was "not linked" to the search on Tuesday and was "in relation to allegations of publishing classified material".
"The search warrant relates to a referral received on 11 July 2017 from the Chief of the Defence Force and the then-Acting Secretary for Defence," it said, without giving further details.
ABC 'stands by its journalists'
The broadcaster released a statement in response to the raid citing Managing Director David Anderson as saying, "this raises legitimate concerns over freedom of the press".
"The ABC stands by its journalists, will protect its sources and continue to report without fear or favour on national security and intelligence issues when there is a clear public interest," Mr Anderson said.
"I'm still staggered by the power of this warrant," Executive Editor ABC News and ABC Head of Investigative Journalism John Lyons wrote on Twitter.
"It allows the AFP to 'add, copy, delete or alter' material in the ABC's computers. All Australians, please think about that: as of this moment, the AFP has the power to delete material in the ABC's computers. Australia 2019."
ABC News director Gaven Morris defended the two journalists who were named along with him in the search warrant.
"For the record, @DanielMOakes and @sclark_melbs are two of @abcnews' finest journalists," he tweeted.
"Honest and committed to telling the truth in the Australian public's interests. Just like @annikasmethurst. I'm proud of the difficult work they all do."