Canada complicit in race-based genocide
http://www.bbc.co.uk/news/world-us-canada-48503545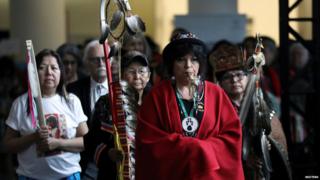 Canada is complicit in a "race-based genocide" against indigenous women, a government report has concluded.
The report cited research finding indigenous women were 12 times more likely to be killed or to disappear than other women in Canada.
Released Monday, the report was many years in the making.
Among more than 200 recommendations is a call for all Canadians to help end violence, including by learning indigenous history.
The 1,200-page document is the culmination of almost three years of hearings and research by the inquiry into disproportionate violence faced by indigenous women and girls in Canada.
It blames the crisis on deep-rooted colonialism and state inaction.
The report found that "persistent and deliberate human and indigenous rights violations and abuses are the root cause behind Canada's staggering rates of violence".
"Despite their different circumstances and backgrounds, all of the missing and murdered are connected by economic, social, and political marginalisation, racism and misogyny woven into the fabric of Canadian society," said the inquiry's chief commissioner, Marion Buller, in a statement.
The inquiry, which cost C$92m ($67m; £53m), focused on the systemic causes of violence against indigenous, Inuit and Metis women as well as on prevention.
It has heard from more than 2,000 witnesses since 2017 – including survivors of violence and family members.
The findings of the National Inquiry into Murdered and Missing Indigenous Women and Girls were long-awaited in Canada, where there are about 1.6m indigenous people.
Prime Minister Justin Trudeau – who has made reconciliation with indigenous peoples a priority for his government – will be on hand at the closing ceremony to receive a copy of its findings.
His government launched the national inquiry in September 2016, after years of calls for one by indigenous and international organisations.
The families who have lost loved ones to violence – and the survivors of violence – will also be watching this closely.
In 2015, a landmark Truth and Reconciliation report into the legacy of residential schools in Canada issued a damning verdict – that the policy amounted to "cultural genocide".
This document takes that finding a step further saying that the murder and disappearance indigenous women and girls over the past few decades has amounted to a "race-based genocide of indigenous peoples".
Among the findings cited by the inquiry was that indigenous women were 12 times more likely to be killed or to disappear than any other woman in Canada.
The report acknowledged disagreements over what constituted genocide, but concluded:
"The National Inquiry is of the opinion that the definition of genocide in international law, as it stands, encompasses the past and current actions and omissions of Canada towards Indigenous Peoples."
While the chief focus of the inquiry was on women and girls, the commissioners also included many references to 2SLGBTQQIA [two-spirit, lesbian, gay, bisexual, transgender, queer, questioning, intersex and asexual] people.
They note that they, too, have also been frequent targets of violence, and their recommendations include them.
Past inquiries and investigations in Canada – from the 1996 Royal Commission on Aboriginal Peoples to the more recent Truth and Reconciliation report – have put forward about 900 wide-ranging recommendations to deal with many of the underlying issues.
Many have never been applied.
This lack of action was cited by the final report on missing and murdered indigenous women:
"One of the family members' and survivors' biggest fears in opening themselves up to this process as intense as this one is that in the end, nothing is done – the report gathers dust on a shelf and the recommendations are left unanswered".