Pelosi calls for family intervention with Trump
http://www.bbc.co.uk/news/world-us-canada-48388880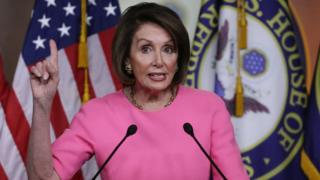 The US House of Representatives' Democratic leader has questioned President Donald Trump's fitness for office, calling for an "intervention".
Speaker Nancy Pelosi also said she was concerned for the president's wellbeing, a day after he abruptly cut short a meeting with her.
The California congresswoman accused Mr Trump of a "temper tantrum", saying he had pounded the table before leaving.
It represented a new low in relations between the White House and Democrats.
"I pray for the President of the United States," Mrs Pelosi said on Thursday.
In a response to a question at her weekly press briefing, the House speaker said she was concerned for the wellbeing of the president "and the wellbeing of the United States of America".
"I wish that his family or his administration or his staff would have an intervention for the good of the country."
"Maybe he wants to take a leave of absence," she added.
She even joked about the 25th Amendment, the US constitution's clause for removing a president, telling a reporter: "That's a good idea."
Mrs Pelosi depicted Mr Trump's behaviour as "villainous", citing his rejecting of subpoenas, withholding documents and blocking testimony by current and ex-advisers.
Her attack was the latest episode in an increasingly fraught battle of wills between her and the Republican president.
On Wednesday, Mr Trump, Mrs Pelosi and her Senate counterpart Chuck Schumer, were due to discuss spending on crumbling US infrastructure, a rare possible area of agreement with the White House.
But Mr Trump ended the meeting after three minutes.
Almost immediately afterwards, he appeared in the Rose Garden to declare that he was ending all bipartisan co-operation with Democrats until they stopped their "phoney investigations".
As rank-and-file Democrats call for Mr Trump's impeachment, the House speaker continued to warn against such a move, arguing that the president was goading her party to attempt to remove him from office.
"The White House is just crying out for impeachment, that's why he flipped yesterday," Ms Pelosi said on Thursday.
"Impeachment is a very divisive place to go."
Shortly before Mrs Pelosi's remarks the White House rebuked her for accusing the president on Wednesday of a "cover-up" over Russia's alleged meddling in the 2016 US elections.
Press secretary Sarah Sanders told CNN: "It's very hard to have a meeting where you accuse the president of the United States of a crime and an hour later show up and act as if nothing has happened."