Australias former PM Bob Hawke dies at 89
http://www.bbc.co.uk/news/world-australia-48293956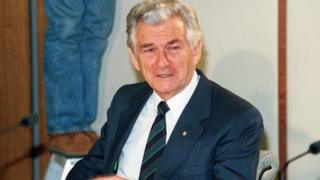 Former Australian prime minister and Labor Party leader Bob Hawke, who dominated the country's politics in the 1980s, has died at the age of 89.
The charismatic and beloved politician led the country from 1983 to 1991 and is credited with reforms that modernised the economy.
He remains the longest-serving prime minister of Australia's centre-left Labor Party.
His wife said in a statement that he died "peacefully at home".
"Today we lost Bob Hawke, a great Australian – many would say the greatest Australian of the post-war era," Blanche D'Alpuget said in a statement.
Mr Hawke joined the Labor Party at 18 in 1947 and would go on to win a Rhodes Scholarship to the University of Oxford in 1953.
He later joined the trade union movement, rising to become president of the Australian Council of Trade Unions by 1969.
He first won a seat in parliament in 1980 and became Labor leader in 1983. He and Labor won a general election by a landslide soon after.
Mr Hawke was known for his maverick style, and set a record for beer drinking while at Oxford. He cried publicly a number of times – most famously in 1989 at a memorial service at Parliament House following the crackdown on Chinese students at Beijing's Tiananmen square.
He was known for his social policies and concern for Australia's vulnerable, once declaring that he wanted to create a country where there were "no second-class Australians". He created Australia's universal healthcare system – Medicare.
But the PM is also lauded by many for making radical market reforms – including floating the Australian dollar.
"Among his proudest achievements were large increases in the proportion of children finishing high school, his role in ending apartheid in South Africa, and his successful international campaign to protect Antarctica from mining," the statement from his family said.
It added that he "abhorred racism and bigotry" and "foresaw the Asian Century".
Tributes are pouring in for a man who was highly popular with the Australian public and led Labor to four election victories.
Former Labor PM Kevin Rudd tweeted that he was "a giant of Australian politics".
Bob Hawke's death comes days before Australians go to the polls in a federal election.
His former rival and the man who succeeded him as Labor leader and prime minister, Paul Keating, said that the pair had enjoyed a "great partnership".
"What remains and what will endure from that partnership are the monumental foundations of modern Australia," he said.