Tech giants pledge to limit terror content
http://www.bbc.co.uk/news/technology-48288353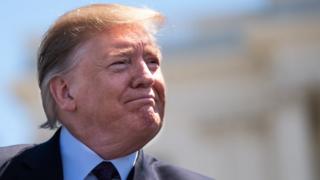 The US has declined to join an international initiative aimed at tackling the spread of terror online.
The White House said on Wednesday it supported the Christchurch Call's aims but was "not currently in a position to join the endorsement".
The comments came as five of the world's biggest tech companies pledged to tackle extremist material.
The Christchurch Call was launched in response to a deadly terror attack that was live streamed on Facebook.
The March attack by a lone gunman on two mosques in the New Zealand city of Christchurch left 51 people dead.
The Christchurch Call urges governments and tech giants to improve their efforts to stop the spread of extremist content.
It was spearheaded by New Zealand Premier Jacinda Ardern and France's President Emmanuel Macron, who joined world leaders in Paris on Wednesday to launch the action.
In its statement, the White House said it agreed that tech companies needed to regulate content, but stressed the need to protect freedom of speech.
"We continue to be proactive in our efforts to counter terrorist content online while also continuing to respect freedom of expression and freedom of the press," it said. "We encourage technology companies to enforce their terms of service and community standards that forbid the use of their platforms for terrorist purposes."
"Further, we maintain that the best tool to defeat terrorist speech is productive speech and thus we emphasise the importance of promoting credible, alternative narratives as the primary means by which we can defeat terrorist messaging," it added.
What did the tech companies pledge?
As well as signing up to the largely symbolic document produced in Paris, leading tech companies made a pledge of nine actions that they said they will take to curb extremist content.
Facebook, Amazon, Google, Twitter and Microsoft said they would update their terms of use to "expressly prohibit the distribution of terrorist and violent extremist content" and develop crisis protocols to respond to emerging or active events such as a terror attack.
The companies said they would also commit to publishing "transparency reports" on the detection and removal of terror or violent extremist content.
Live-stream limits
Before the event in Paris, Facebook announced curbs on its streaming feature.
The tech giant said there would be a "one-strike policy" banning those who violate new Facebook Live rules.
In a statement, Facebook said that anyone sharing "violating content" like a statement from a terrorist group without context would be blocked from using Facebook Live for a set period, such as 30 days.
Ms Ardern called the measures a "good first step".