Sri Lanka curfew extended after riots
http://www.bbc.co.uk/news/world-asia-48269240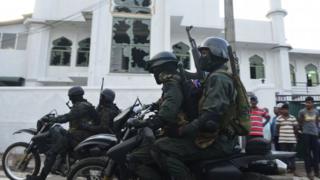 Sri Lanka has imposed a nationwide curfew for the second night in a row after a wave of anti-Muslim violence in the wake of the Easter bombings.
A Muslim man was stabbed to death while rioters torched Muslim-owned shops and vandalised mosques during Monday's attacks.
Police have arrested 60 people, including the leader of a far-right Buddhist group.
The United Nations has called for calm and a "rejection of hate".
A nationwide curfew, declared for the second night running, will come into effect at 21:00 (15:30 GMT) on Tuesday.
The country's North-Western province, where the worst violence flared, will be shut down for longer, police said.
Rioting there, north of the capital Colombo, saw police fire bullets into the air to disperse mobs marauding through several towns.
Tensions have been high since Islamist militants attacked churches and hotels three weeks ago on Easter Sunday, killing more than 250 people.
In response to the rioting, the UN's Colombo office has urged Sri Lankan authorities to "ensure that the situation does not escalate".
It stressed the importance of holding the perpetrators and inciters of violence to account at this "critical juncture" if peace is to be maintained.
In a televised address, Police Chief Chandana Wickramaratne warned that officers would respond to rioters with maximum force.
Prime Minister Ranil Wickremesinghe has also appealed for calm, saying the current unrest was hampering the investigation into last month's attacks.
Visiting Kuliyapitiya – a town where rioting happened – Mr Wickremesinghe said he would not allow the lives of innocent people to be disrupted.
Muslims make up nearly 10% of Sri Lanka's 22 million people, who are predominantly Sinhalese Buddhists. Mob violence in central Sri Lanka targeting Muslim communities in March of last year prompted the government to declare a state of emergency.
How did the violence unfold?
The unrest centred on districts north of the capital, Colombo:
In the north-western town of Kiniyama, hundreds of people stormed a mosque, destroying windows and doors and burning Korans, according to witnesses
In the Catholic-majority town of Chilaw, Muslim-owned shops and mosques were attacked after a dispute that started on Facebook, police said
A man died from stab wounds after a mob attacked his business in Puttalam District, also in Sri Lanka's north-west
Incidents were reported in the town of Hettipola, where at least three shops were reportedly torched
A large pasta factory was burned near Minuwangoda, with the owners accusing police of standing by while employees were trapped inside
How has the government responded?
The government says that security forces have restored calm to streets in the areas affected by violence and insist officers are preventing revenge attacks on Muslims.
"What we want to say is that the government is very determined to control this and from tonight onwards it shall be completely controlled," Shiral Lakthilaka, an adviser to the president, told the BBC.
Leaders from across the political spectrum have been pleading for calm and urging people not to share rumours via social media.
Officials have blocked some social media platforms and messaging apps, including Facebook and Whatsapp, in an attempt to curb outbreaks of unrest.
Nevertheless, there is concern among some Muslims that their fears about retaliatory violence were not acted on soon enough. One Muslim businessman, who wished to remain anonymous, told the BBC he feared for his safety.
"We can see many places where the curfew has been announced. The army is on the streets with guns, but they don't take any action against the violence," he said.
What happened on Easter Sunday?
On Sunday 21 April six near-simultaneous suicide bombs exploded at hotels and churches across the country. Hours later, two more bombs were detonated, with fewer casualties, as police closed in on those behind the bombings.
More than 250 people were killed in the wave of the attacks which stunned the world and the country – Sri Lanka was weeks away from marking 10 years of relative peace since the end of its brutal civil war.
Police have blamed local Islamists for the Easter Sunday bombings and dozens of arrests have been made in the weeks since. The Islamic State group has said it was involved but has given no details.
Sri Lanka has a history of ethnic conflict and the latest violence has triggered alarm.
Separatists rebels from the Tamil minority community fought a violent insurgency against government forces for decades until the civil war ended in 2009.