Brexit bill to be introduced in early June
http://www.bbc.co.uk/news/uk-politics-48275827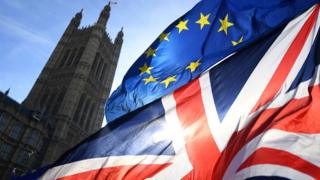 A bill implementing the Brexit deal will be introduced in the first week of June, the government has confirmed.
Downing Street said this was "imperative" if the UK was to leave the EU before MPs' summer recess.
The government also confirmed that talks with the Labour party would continue on Wednesday in an attempt to agree a way through the Brexit impasse.
Attempts to find a cross-party compromise began after the PM's Brexit deal was rejected three times by MPs.
The prime minister and Labour leader Jeremy Corbyn met on Tuesday evening to discuss the ongoing talks.
Number 10 described the discussions as "both useful and constructive".
A spokesman said Theresa May had made clear the government's "determination to bring the talks to a conclusion and deliver on the referendum result to leave the EU".
"We will therefore be bringing forward the Withdrawal Agreement Bill in the week beginning 3 June," he said.
Brexit Secretary Steve Barclay said "It is right that the PM makes clear there needs to be an end point to the talks."
What is the Withdrawal Agreement Bill?
The UK needs to pass a law to implement the withdrawal agreement – the part of the PM's Brexit deal which will take the country out of the EU – in UK law.
This is a requirement under the terms of previous Brexit legislation passed last year.
The legislation would make the citizens' rights part of the agreement directly enforceable in UK courts, and set their relationship with the EU's Court of Justice.
It will also allow ministers to make "divorce payments" to the EU foreseen under the current deal, and give effect to the so-called backstop plan for the Irish border.
MPs will be able to vote on amendments to the bill, and this could allow ministers to make good on any compromise they reach with Labour in the cross-party talks.
The cross-party meetings have been going on for weeks with little sign of progress, and last week Mr Corbyn said talks were "difficult" because the government was "disintegrating".
Foreign Secretary Jeremy Hunt said a compromise was not impossible. but talks could not continue "indefinitely".
This latest announcement came as Conservative MPs wrote to Mrs May urging her not to agree a deal with Labour that included a customs union.
The letter has been signed by 13 former Tory cabinet ministers and Sir Graham Brady, chairman of the backbench 1922 Committee.
Labour have called for a permanent and comprehensive customs union with the EU after Brexit, meaning there would be no internal tariffs (taxes) on goods sold between the UK and the rest of the bloc.
But it would mean the UK cannot negotiate its own trade deals on goods with other countries around the world, something many Brexit-supporting Tory MPs support.