Explosion outside Sufi shrine in Lahore
http://www.bbc.co.uk/news/world-asia-48197260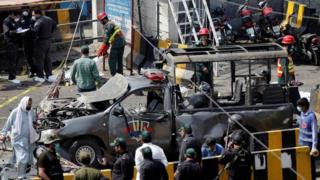 At least eight people have been killed in an explosion outside a major Sufi Muslim shrine in the Pakistani city of Lahore, officials said.
Five police officers are reportedly among the dead. A police van was the prime target, authorities said.
Police have described the explosion as a suicide attack, Pakistan's APP news agency reports.
The explosion occurred near the Data Darbar Sufi shrine, one of the oldest Sufi shrines in South Asia.
So far, no group has said it carried out the attack.
The bloodshed comes as Pakistani Muslims mark the Islamic holy month of Ramadan.
A security operation is still under way in the area, with heavy police presence at the blast site.
Prime Minister Imran Khan has strongly denounced the attack.
The Data Darbar Sufi shrine is located inside the ancient Walled City in Lahore, Pakistan's second-biggest city, and is visited by hundreds of thousands of people each year.
Sufism is a form of Islamic mysticism that exists across the Islamic world, and includes both Sunnis and Shias.
Its followers in Pakistan have been attacked by militants in the past.
In 2010, dozens died in two suicide blasts at Data Darbar.
Pakistan has launched a renewed crackdown on extremism in recent years, but while security has improved the country still grapples with militant groups.
In 2016, at least 72 people were killed in Lahore in a bombing targeting Christians on Easter Sunday.