Australian PM hit by egg on campaign trail
http://www.bbc.co.uk/news/world-australia-48182184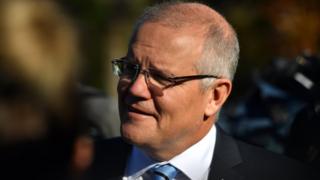 Australian Prime Minister Scott Morrison has been egged by a protester while campaigning ahead of the nation's general election.
The egg grazed Mr Morrison's head but did not break, local media said. The incident also knocked an elderly woman to the ground.
Footage showed a 25-year-old woman being restrained at the scene. Police later said she had been arrested.
Mr Morrison described the egg thrower as "cowardly".
The incident happened at a Country Women's Association event in Albury, about 330km (200 miles) south-east of Canberra. No-one was injured.
Mr Morrison later praised his security staff for intervening quickly and expressed concern for the elderly woman, identified in media reports as Margaret Baxter.
Farmers in Australia have faced protests by vegan activists in recent times. Police did not immediately speculate on a motive for Tuesday's incident, nor whether it was suspected of being linked to other protests.
Ms Baxter told the Australian Broadcasting Corporation that she had recently had stomach surgery, but did not feel pain after the fall.
"My main concern was holding my stomach to make sure it didn't get hit," she said.
Mr Morrison is not the first Australian politician to be targeted by an egg-wielding protester this year.
In March, far-right Senator Fraser Anning was egged after making heavily criticised comments about the mosque shootings in Christchurch, New Zealand.
A 17-year-old boy was later cautioned by police over Mr Anning's egging.
Australians are due to vote in a general election on 18 May.