Trump to raise tariffs on Chinese goods
http://www.bbc.co.uk/news/business-48171561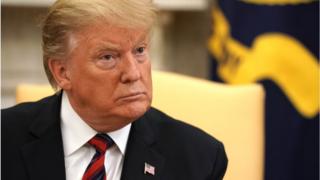 Donald Trump has said he will raise tariffs on $200bn of Chinese goods this week, because talks on a US-China trade deal are moving "too slowly".
The US president tweeted that tariffs of 10% on certain goods would rise to 25% on Friday, and $325bn of untaxed goods could face 25% duties "shortly".
"The Trade Deal with China continues, but too slowly, as they attempt to renegotiate. No!" he tweeted.
The countries have seemed near to striking a trade deal in recent weeks.
Mr Trump delayed further tariff increases earlier in the year, citing progress in talks.
The move increases pressure on China as Vice Premier Liu He prepares to travel Washington this week to resume negotiations.
That follows talks in April in Beijing that US Treasury Secretary Steven Mnuchin called "productive."
So far, the US has imposed tariffs on $250bn (£191bn) of Chinese goods, having accused the country of unfair trade practices.
Beijing hit back with duties on $110bn of US goods, blaming the US for starting "the largest trade war in economic history".
Is the deal over?
According to reports, in recent days US officials have become frustrated by China seeking to row back on some earlier commitments
It is understood that key sticking points include how to police any deal, and whether existing tariffs will be removed or stay in place.
However, Tom Orlik, chief economist at Bloomberg Economics, suggested that Mr Trump's tweet may simply be a negotiation tactic.
"It's possible talks are breaking down, with China offering insufficient concessions, and an increase in tariffs a genuine prospect.
"More likely, in our view, is that this renewed threat is an attempt to extract a few more minor concessions in the final days of talks."
What will the tariff rise affect?
Mr Trump's latest move will raise duties on more than 5,000 products made by Chinese produces, ranging from chemicals to textiles and consumer goods.
The US president originally imposed a 10% tariff on these goods in September that was due to rise in January, but postponed this as negotiations advanced.
"The Tariffs paid to the USA have had little impact on product cost, mostly borne by China," he tweeted on Sunday.
However, both US and international firms have said they are being harmed by the trade war.
Fears about a further escalation caused a slump in world stock markets towards the end of last year.
The IMF has warned a full-blown trade war would weaken the global economy.