US jobless rate at lowest since 1969
http://www.bbc.co.uk/news/business-48145563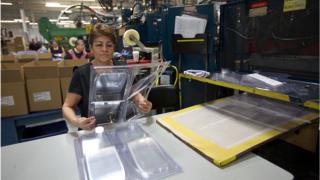 The US unemployment rate dropped to its lowest level for more than 49 years in April, according to official figures.
The jobless rate fell from 3.8% to 3.6%, the US Labor Department said, the lowest rate since December 1969.
However, the fall in the rate was due to a large number of people – 490,000 – leaving the labour force during April.
The data also showed that the world's largest economy added a stronger-than-expected 263,000 jobs last month.
Wage data showed that average earnings grew at an annual rate of 3.2%.
Hiring gains were seen in nearly all sectors of the economy during April.
Professional and business services – added 76,000 new jobs
Construction – added 33,000
Healthcare – added 27,000
Social assistance – added 26,000
Financial activities – added 12,000
However, there was little change in the numbers of involuntary part-time workers. The number of people working part time because their hours had been reduced or because they were unable to find full-time jobs remained at 4.7 million.
Ian Shepherdson, chief economist at Pantheon Macroeconomics, called it a "strong" jobs report, "but payroll gains can't continue at this pace".
"What can continue, though, is the downshift in unemployment, and that means more power to scarce labour and faster wage gains in due course."
He added that while there were no immediate implications to monetary policy, it would be possible that similar data in future could "prompt something of a rethink at the Fed".
The US Federal Reserve indicated earlier this year that it would not change rates for the rest of 2019.
On Wednesday, the Fed voted to hold interest rates, keeping borrowing costs at between 2.25%-2.5%.
A day earlier, US President Donald Trump had tweeted that the Fed should reduce rates by 1% to help the US economy "go up like a rocket".
Analysis:
By Andrew Walker, BBC World Service economics correspondent
It's a strong jobs report and certainly undermines the concerns expressed in recent months that the US might be heading for a recession soon.
The unemployment rate puts the US close to, though not at, the top of the international league table. That is a little flattering however. It reflects not just job creation, but also the number of people not seeking to work. They are classified not as unemployed but as "not in the labour force".
The percentage who are either working or trying to get work (known as the participation rate) puts the US much closer to mid-table, as does the percentage who do have jobs.
The Federal Reserve chairman, Jerome Powell, (speaking to CBS television) has referred to "an unusually large number of people in their prime working years who are not in the labour force". There are a number of factors behind that but one possible contributor is a major US public health problem; the misuse of opioid drugs.